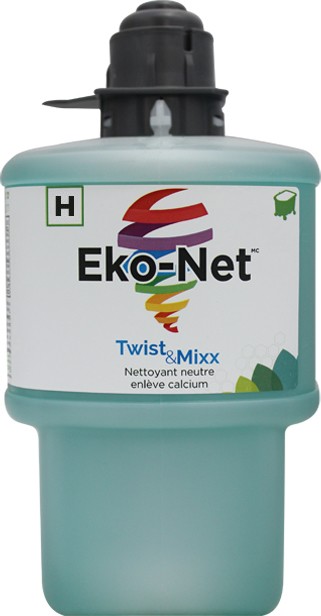 This product
is not available

with the option set selected. Please try another set of options.
If you have any questions, please contact us.

514-645-2753
Lalema Neutral Cleaner and Calcium Remover EKO-NET for Twist & Mixx
(2 L)
EKO-LOGIK neutral cleaner and calcium remover
LMTM8730HIG
Technical Specifications
Volume 2 L
Yield 280 ready to use liters
Fragrance Lime
Color Green
Concentrated pH (25 °C) 2.7 - 4.3
Certifications Environmental Friendly Lalema Certified Products Certified Environmentally friendly products Canadian Food Inspection Agency
Unit Converter
Detailed Description
All-purpose neutral cleaner and calcium remover
Lalema's Twist & Mixx dilution system works by gravity rather than mechanically, eliminating concentration variations due to pressure changes. It's engineering, design and versatility makes it one of the best dilution system in the world.
EKO-NET is an all-purpose neutral cleaner that can be used on non porous surfaces such as walls, waxed and unwaxed floors, office furnitures as well as nylon, vinyl and metal surfaces to eliminate dirt and grease stains.
This all-purpose neutral cleaner can be used with a bottle, mop or damp reusable cloth. To clean with an autoscrubber, dilute only 6 mL of EKO-NET per litre of water. This makes EKO-NET as light on your budget as it is on the environment.
EKO-NET is an all-purpose neutral cleaner very effective on calcium deposit. Also, this EKO-LOGIK all-purpose neutral cleaner is EcoLogo certified (UL 2759).
*Suggested dilution only. Always test first.
How to install the system
Discover Twist&Mixx's ECOLOGO certified products
Technical Specifications
| | |
| --- | --- |
| Manufacturer | Lalema |
| Volume | 2 L |
| Yield | 280 ready to use liters |
| Fragrance | Lime |
| Color | Green |
| Concentrated pH (25 °C) | 2.7 - 4.3 |
| Solubility | Water soluble |
| Specific gravity (25 °C) | 0.995 - 1.015 |
| Flammability | Nonflammable |
| Biodegradability | Readily biodegradable |
| Stability | Stable between 10 °C and 40 °C |
Related Products
Model Twist & Mixx
Material Plastic
Units 1
Color Gray
Manufacturer Lalema
Working Width 18" (45.7 cm)
Manufacturer Rubbermaid
Model Hygen
Material Microfiber
Resistance Bleach Resistant
Feature Machine Washable
Serie Q410
Type Velcro
Use Walls and Floors