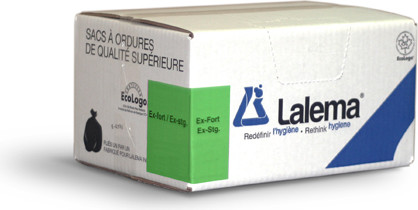 This product
is not available

with the option set selected. Please try another set of options.
If you have any questions, please contact us.

514-645-2753
Lalema Garbage Bags for Industrial Use 35" X 50" Black Extra-Strong, 2 mm
100 bags/case
The garbage bags 35" X 50"(2 mm) are easy to open, superior quality and an ideal for garbages and carts.
GO096846000
In stock
Part List

Technical Specifications
Bags/Box 100 bags
Color Black
Format 35" X 50"
Model Industrial
Strength Ultra-Strong
Unit Converter
Detailed Description
Garbage Bags for Industrial Use 35 X 50
Ultra resistant industrial garbage bags for any type of waste. Sold in boxes of 50 bags, they are black. The size of these garbage bags is 35 X 50 inches (approximately 89 X 127 cm).
Opening garbage bags is very easy, allowing straight positioning of the bag in its corresponding container.
Technical Specifications
| | |
| --- | --- |
| Bags/Box | 100 bags |
| Color | Black |
| Format | 35" X 50" |
| Model | Industrial |
| Strength | Ultra-Strong |
| Thickness | 2 mm |
| Manufacturer | Lalema |
Related Products
Color Black
Strength Ultra-Strong
Format 35" X 50"
Manufacturer Lalema
Model Industrial
Bags/Box 50 bags
Shape Round
Material Steel
Length 15" (38 cm)
Heigth 36" (91.4 cm)
Serie FGR1536
Model Round-Tops
Manufacturer Rubbermaid
Capacity 15 gal US (56,8 L)
Width 15" (38 cm)
Liner Galvanized steel