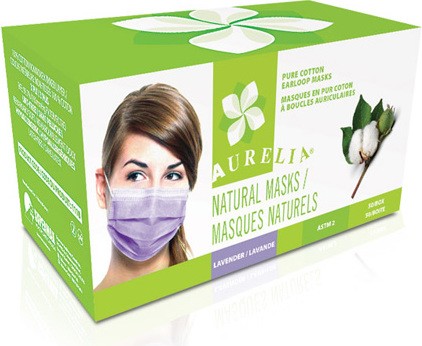 This product
is not available

with the option set selected. Please try another set of options.
If you have any questions, please contact us.

514-645-2753
Supermax Healthcare Canada 1118 Natural Procedure Earloop Masks 100% Cotton
50 masks/box - 10 boxes/case
Natural procedure pure coton (100% coton) earloop masks are remarkably soft, hypoallergenic, lint-free and latex-free.
SE111800000
In stock
Part List

Technical Specifications
Boxs/Case 10 boxes
Dimensions 90 x 175 mm
Feature lint-free
Material 100% coton
Ply 3 ply
Unit Converter
Detailed Description
Natural Procedure Earloop Masks 100% Cotton
100% cotton nonwoven inner layer
3 ply
ASTM 2
BFE: 99.7% (160 mmHg filter)
Lint-free!
Remarkably soft
Hypoallergenic
Latex-free
Biodegradable
Technical Specifications
| | |
| --- | --- |
| Boxs/Case | 10 boxes |
| Dimensions | 90 x 175 mm |
| Feature | lint-free |
| Material | 100% coton |
| Ply | 3 ply |
| Type | Earloop masks |
| Units/Box | 50 masks |
| Brand | Aurelia |
| Manufacturer | Supermax Healthcare Canada |