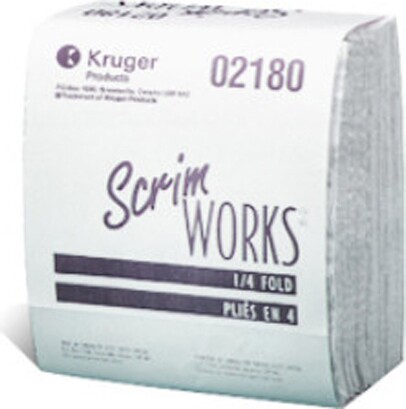 This product
is not available

with the option set selected. Please try another set of options.
If you have any questions, please contact us.

514-645-2753
Kruger Scrim-WORKS®, 4-Ply, 1/4 Fold, White Wipers
4-Ply Folded Wipers
EM002180000
In stock
Part List

Technical Specifications
Color White
Dimensions 13" x 15" ( 33.02 cm x 38.1 cm )
Material Paper
Type Folded wipers
Unit Converter
Detailed Description
Absorbent, strong, versatile reinforced paper wiper with a cloth-like texture. It picks up liquids quickly and with ease. Nylon reinforcement makes the wipers tough enough for any scrubbing application. Made with 70% recycled fibre and over 62% postconsumer content.
Technical Specifications
| | |
| --- | --- |
| Color | White |
| Dimensions | 13" x 15" ( 33.02 cm x 38.1 cm ) |
| Manufacturer | Kruger |
| Material | Paper |
| Type | Folded wipers |
Related Products
Manufacturer Lalema
Fragrance Fresh
Color Light Amber
Concentrated pH (25 °C) 5.7 - 7.3
Recommended Dilution* 1:3
Solubility Water soluble
Specific gravity (25 °C) 1.010 - 1.030
Flammability Nonflammable
Biodegradability Readily biodegradable
Stability Stable between 10 °C and 40 °C
Storage Avoid frost and excessive heat
Use Odor Controller
Colony-forming unit 107 CFU / mL