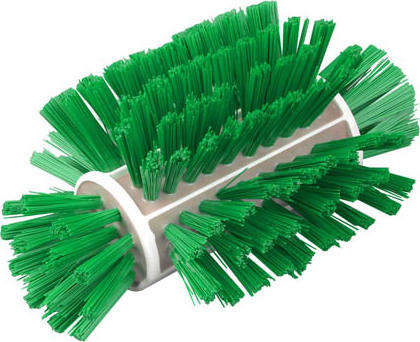 This product
is not available

with the option set selected. Please try another set of options.
If you have any questions, please contact us.

514-645-2753
Stiff 1 1/2" polyester resine set bristles in a 81/2" long polypropylene hand-held scrub
AGD79RESVER
In stock
Part List

Technical Specifications
Fibre Type Polyester
Handle Material Polypropylene
Length 8-1/2" (21,6 cm)
Trim Length 1-1/2" (3.8 cm)
Unit Converter
Detailed Description
8-1/2" Stiff Resin Set Vessel Brush
This 8 1/2" wide brush features stiff polyester bristles on three sides with a handle hole in the centre, a design that allows the easy cleaning of vats, tanks or other large vessels. This resin-set version of the D77PR-series vat brush features bristles that are stapled into the block, then further anchored by epoxy resin, virtually eliminating the risk of filament loss as well as preventing bacteria from breeding in the block's tuft holes. This extra insurance against contamination is especially important in food processing environments. Use with any of our Food Hygiene line Euro-thread handles. Offered in five colours to aid in food type segregation and HACCP programs.
8 1/2" wide polypropylene block filled with stiff polyester fibre that is anchored by stainless steel staples as well as epoxy resin

Shape is designed for cleaning vats and tanks
Pair with Food Hygiene line Euro-thread handles
Technical Specifications
| | |
| --- | --- |
| Fibre Type | Polyester |
| Handle Material | Polypropylene |
| Length | 8-1/2" (21,6 cm) |
| Manufacturer | Atlas Graham Furgale |
| Trim Length | 1-1/2" (3.8 cm) |