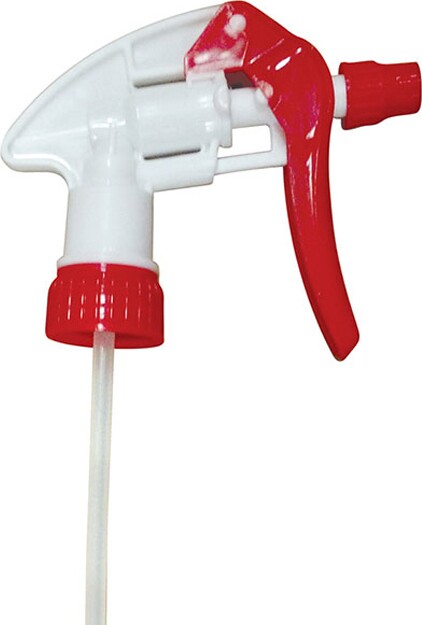 This product
is not available

with the option set selected. Please try another set of options.
If you have any questions, please contact us.

514-645-2753
Multi-purpose Trigger Sprayer
AG000HC0114
In stock
Part List

Technical Specifications
Color Variables
Length 9" (22.9 cm)
Material Plastic
Use All-purpose
Unit Converter
Detailed Description
Adjustable trigger sprayer that can be adjusted from a fine mist to a steady stream. The dip tubes are equipped with filter screen.
Technical Specifications
| | |
| --- | --- |
| Color | Variables |
| Length | 9" (22.9 cm) |
| Manufacturer | Atlas Graham Furgale |
| Material | Plastic |
| Use | All-purpose |
Related Products
Volume 24 oz (700 mL)
Color Clear
Custom Logo Lalema
Manufacturer Lalema
Type Bottle
Color Fluorescent green
Fragrance Green apple
Concentrated pH (25 °C) 3.0 - 4.5
Average dilution* 1:3
Solubility Water soluble
Specific gravity (25 °C) 0.990 - 1.010
Flammability Nonflammable
Stability Stable between 10 °C and 40 °C
Storage Avoid frost and excessive heat
Manufacturer Lalema
Color Fluorescent yellow
Fragrance Lemon
Concentrated pH (25 °C) 11.7 - 14.0
Average dilution* 1:20
Solubility Water soluble
Specific gravity (25 °C) 1.005 - 1.025
Flammability Nonflammable
Stability Stable between 10 °C and 40 °C
Storage Avoid frost and excessive heat
Manufacturer Lalema