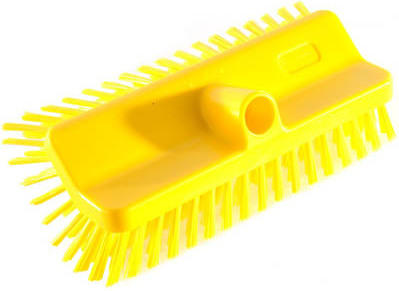 This product
is not available

with the option set selected. Please try another set of options.
If you have any questions, please contact us.

514-645-2753
This 9.5" wide, dual level brush is filled with 1 1/4" stiff trim in an angled block
AG0B1783JAU
In stock
Part List

Technical Specifications
Fibre Type Polyester
Length 9.5" (24.1 cm)
Trim Length 1-1/4" (3.2 cm)
Unit Converter
Detailed Description
9.5" High-Low Medium Broom
This 9.5" wide polypropylene dual level brush is filled with 1 1/4" stiff polyester trim. Bristles are secured with stainless steel staples that will not corrode. Bristles are set into a V-shaped block that makes this brush particularly useful for cleaning under low tables, counters and covered confined spaces. Available in five colours to assist in food type segregation and in the implementation of HACCP systems. Use with any of the Food Hygiene Euro-thread handles
.
9.5" wide, dual level brush is filled with 1 1/4" stiff trim in an angled block
Use with any Food Hygiene Euro-thread handle
Available in five colours to work with HACCP systems
Technical Specifications
| | |
| --- | --- |
| Fibre Type | Polyester |
| Length | 9.5" (24.1 cm) |
| Manufacturer | Atlas Graham Furgale |
| Trim Length | 1-1/4" (3.2 cm) |