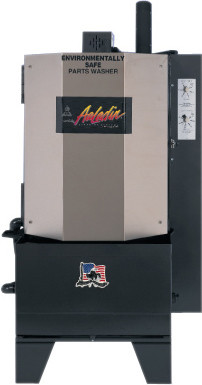 This product
is not available

with the option set selected. Please try another set of options.
If you have any questions, please contact us.

514-645-2753
Aaladin 2040 Aaladin Automatic Parts Washers 2040 (2 HP / 40 gallons)
High pressure automatic parts washers 2040 from Aaladin with a 40 gallons tank capacity and a 2 HP pump.
AA002040000
In stock
Part List

Technical Specifications
Heigth 75" (190.5 cm)
Length 40" (101 cm)
Load Capacity 1 000 lbs
Load Height 31" (78 cm)
Maximum temperature 212°F (100°C)
Unit Converter
Our best suggestions
Detailed Description
Features Include:
40 gallon water capacity
2hp flush seal pump
7kw heater (230v 1ph or 3ph)
12 gauge steel
Seal-less ez-load door
Quick service fine screen filter
Large removable basket
1000lb. load capacity
56 - 0° spray jets
Technical Specifications
| | |
| --- | --- |
| Heigth | 75" (190.5 cm) |
| Length | 40" (101 cm) |
| Load Capacity | 1 000 lbs |
| Load Height | 31" (78 cm) |
| Manufacturer | Aaladin |
| Maximum temperature | 212°F (100°C) |
| Oil Skimmer | No |
| Phase | 1 |
| Power Vent | No |
| Powerful Vacuum Motor | 2 HP |
| Pressure | 55 PSI |
| Turn table diameter | 24" (61 cm) |
| Waster Water Evaporator | No |
| Water flow | 45 GPM |
| Water tank capacity | 40 gal (152 L) |
| Weight | 800 lbs |
| Width | 44" (111.8 cm) |