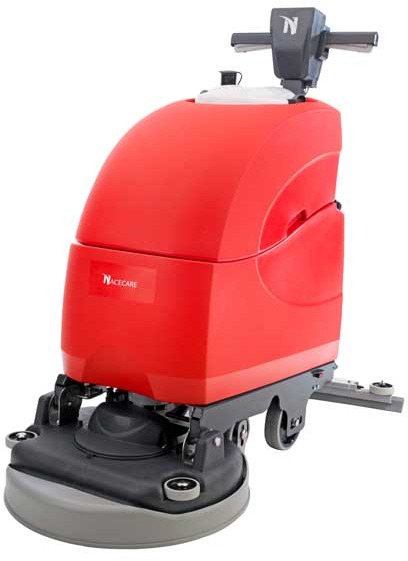 This product
is not available

with the option set selected. Please try another set of options.
If you have any questions, please contact us.

514-645-2753
Nacecare Autoscrubber 20" ETB 1120
ETB 1120 autoscrubber 20" with battery having a run time of 2.5 to 3.5 hours, compact, easy to handle, steel chassis and safe low voltage shut off
NA776316000
In stock
Part List
Technical Bulletin

Technical Specifications
Battery 2 x 12 volt (sold seperately)
Power Source Acid Battery
Solution tank capacity 11 gal
Color Red
Dimensions 44" X 21" X 43"
Unit Converter
Detailed Description
Autoscrubber 20" with battery system
Nacecare ETB 1120 autoscrubber possesses a cleaning path of 20" and 11 gallon solution and recovery tanks.
Very compact, easy to handle and manoeuvre
LED control panel of this autoscrubber continuously provides the operator with vacuum, water flow, brush pressure and battery information
Semi parabolic squeegee with gum rubber blades pivots from side to side providing excellent water recovery even on turns
Epoxy coated steel chassis with easily removed squeegee blades for cleaning
Patented flip-up head eliminates the need for crawling on the floor to change the floor pad
100 amp hour lead acid batteries provide 2.5 - 3.5 hours of run time (sold separately)
Low voltage shut off prolongs battery life of this auto-scrubber
Visit our neutral cleaner section so that you can find the product suitable for your autoscrubber. To avoid foam accumulation in the recovery tank of your auto-scrubber, a defoamer such as the product PHASE defoamer must be added to the tank.
Technical Specifications
| | |
| --- | --- |
| Battery | 2 x 12 volt (sold seperately) |
| Manufacturer | Nacecare |
| Power Source | Acid Battery |
| Solution tank capacity | 11 gal |
| Color | Red |
| Dimensions | 44" X 21" X 43" |
| Execution Time | 2.5 - 3.5 h |
| Working Width | 20" (50.8 cm) |
| Vacuum Motor | 400 W , 0.5 hp |
| Powerful Brush Motor | 400 W |
| Brush RPM | 100 RPM |
| Sound Level | 69 dB(A) |
| Yield | 15,000 sq. ft/h |