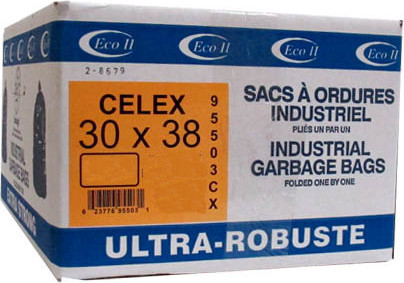 This product
is not available

with the option set selected. Please try another set of options.
If you have any questions, please contact us.

514-645-2753
Eco II Black Garbage Bags 30 X 38 Celex regular
Celex Garbage bags 30 X 38, black.
GO095035000
In stock
Part List

Technical Specifications
Detailed Description
Celex Garbage bags 30 X 38
Ultra resistant industrial garbage bags for any type of waste. The size of these garbage bags is 30 X 38 inches (approximately 76 X 96 cm), and can be used in containers of a capacity up to 35 gallons (approximately 132 L).
Opening Lalema garbage bags is very easy, and allows for an easy positioning of the bag in its respective container.
Lalema garbage bags are ÉcoLogo certified, a norm that aims at minimising the impacts of pollution on the environment. This means that our garbage bags are in accordance with several regulations that are required by the Government of Canada for plastic products.
In particular, the EcoLogo symbol certifies that the garbage bags and their packaging are of known quality and at the same time little harmful for the environment, both at the time of their production and during their use. Moreover, the plastic is partially recycled, partially degradable, or both.
"Are Lalema garbage bags like other ordinary plastic bags?
No, Lalema garbage bags are of superior quality than other ordinary plastic bags on the market. The plastic film is thicker, which makes the garbage bags much more resistant to tearing or heavy weights.
Technical Specifications
| | |
| --- | --- |
| Manufacturer | Eco II |
| Color | Noirs |
| Format | 30" X 38" |
| Model | Industrial |