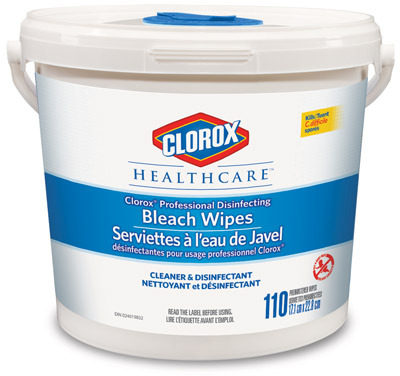 This product
is not available

with the option set selected. Please try another set of options.
If you have any questions, please contact us.

514-645-2753
Clorox Bleach Disinfecting Wipes CLOROX
Ready to use wet bleach disinfecting wipes
CL001309000
In stock
Part List
Technical Bulletin

Technical Specifications
Active Ingredient Sodium hypochlorite
Percentage of active ingredients (concentrated) 0.55 %
Fragrance Unscented
Color White
Unit Converter
Detailed Description
Bleach disinfecting wipes
CLOROX Disinfecting Wipes are the simple solution for cleaning and disinfecting a variety of surfaces. These bleach disinfecting wipes are ideal for healthcare use (patient rooms, bathrooms, emergency rooms, exam rooms, etc.).
CLOROX Disinfecting Wipes are ready to use and contain 0.55 % (5,500 ppm) of sodium hypochlorite.
There's no need for multiple products when you have the convenience of one simple-to-use disinfecting wipe. Just wipe, toss, and you're done.
Contact time for disinfection is 1 minute for more than 30 pathogenic organisms and 5 minutes for C. difficile spores.
Moreover, CLOROX Disinfecting Wipes contain a corrosion inhibitor which, so far as the disinfecting wipes are used according to the instructions, will be safe to use on a wide variety of surfaces without damaging them.
CLOROX Disinfecting Wipes are approved by Health Canada (DIN: 02401983).
You may also need disinfecting wipes without bleach or ready to use bleach disinfectant cleaner.
Technical Specifications
| | |
| --- | --- |
| Manufacturer | Clorox |
| Active Ingredient | Sodium hypochlorite |
| Percentage of active ingredients (concentrated) | 0.55 % |
| Fragrance | Unscented |
| Color | White |
Available formats
| | Code | Format | Sale Unit |
| --- | --- | --- | --- |
| | CL001309000 | 110 Sheets 12" X 12" | Case of 2 |
| | CL001310000 | Refill of 110 Sheets 12" X 12" | Case of 2 |