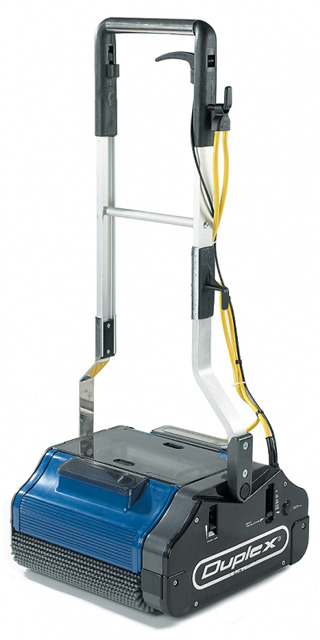 This product
is not available

with the option set selected. Please try another set of options.
If you have any questions, please contact us.

514-645-2753
Nacecare 8025112 Brush Scrubber Duplex DP420
14" cylindrical brush autoscrubber with two counter-rotating brushes. The Duplex DP420 is ideal to clean any irregular surfaces.
NA802511200
In stock
Part List
Technical Bulletin

Technical Specifications
Type Brush Scrubber 14"
Recovery tank capacity 1 gal
Solution tank capacity 2 x 1.6 gal
Color Blue
Working Width 14" (35.6 cm)
Unit Converter
Detailed Description
Duplex DP420 multi-surface floor cleaner - More power!
From wall to wall and into the tightest corners, the Duplex can be used in restoration or as an integral part of your daily maintenance program. Clean virtually any floor surface. Carpet, grouted ceramic, rubberized floors and even escalators are no obstacles for the Duplex.
Can clean virtually any floor surface
Very effective on grouted tile and rubberized floors
Also cleans carpets, hardwood, profiled ceramics
If the floor is uneven use the Duplex
2 counter-rotating brushes that scrub the surface with aggressive action
Twin conveyors lift the dirt-filled solution from the brushes to a central recovery tank or you can choose to double scrub the area picking up the water later
Brushes and drive unit are offset, so the brushes work right up to the edge of the machine and into difficult corners
Brush options include 2 grades of black brushes for regular or aggressive scrubbing , grey is the standard all purpose brush and yellow is for sensitive carpet areas
Excellent as a replacement for bonnet cleaning or interim cleaning
Our industries best restoration machine when used in conjunction with hot water extraction
Technical Specifications
| | |
| --- | --- |
| Manufacturer | Nacecare |
| Type | Brush Scrubber 14" |
| Recovery tank capacity | 1 gal |
| Solution tank capacity | 2 x 1.6 gal |
| Color | Blue |
| Working Width | 14" (35.6 cm) |
| Power Cord Length | 35' |
| Motor | 1000 W |
| Brush Pressure | 57 lb |
| Brush RPM | 780 RPM |