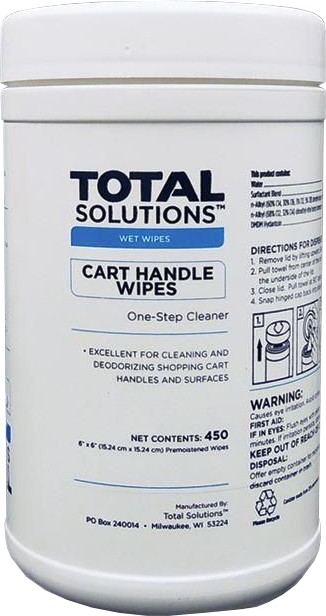 This product
is not available

with the option set selected. Please try another set of options.
If you have any questions, please contact us.

514-645-2753
Advantage 1574CH Cart Handle Wipes TOTAL SOLUTIONS
Total Solutions cart handle wipes are excellent for cleaning and deodorizing shopping cart handles and surfaces.
WH001574CH0
In stock
Part List

Technical Specifications
Type Wet Wipes
Units/Box 450 wipes
Fragrance Rainforest
Color White
Width 6" (15,2 cm)
Unit Converter
Detailed Description
Cart Handle Wipes TOTAL SOLUTIONS
These wipes are specially formulated to clean and deodorize any surface, anywhere. More specifically, they provide excellent, quick and convenient cleaning of shopping carts, equipment and furniture in grocery stores and other facilities.
Clean and deodorize surfaces on contact
Mount in a dispenser for convenient on-site use
Can be used on Dry Erase Boards
Towel Dimensions: 6" L x 6" W
Technical Specifications
| | |
| --- | --- |
| Type | Wet Wipes |
| Units/Box | 450 wipes |
| Fragrance | Rainforest |
| Color | White |
| Width | 6" (15,2 cm) |
| Length | 6" (15,2 cm) |
| Brand | Total Solutions |