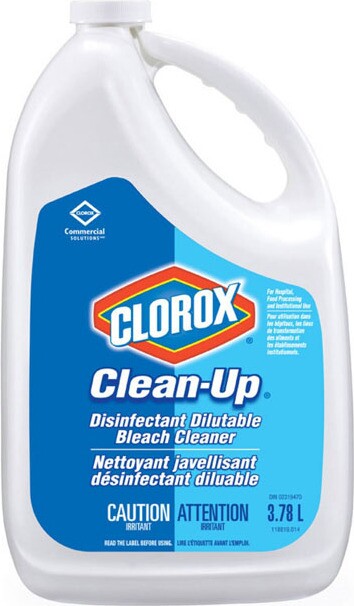 This product
is not available

with the option set selected. Please try another set of options.
If you have any questions, please contact us.

514-645-2753
Clorox Concentrated Bleach Disinfectant Cleaner Clean-Up
Concentrated bleach disinfectant cleaner, contains 18 400 ppm sodium hypochlorite
CL011723.78
In stock
Part List

Technical Specifications
Type Concentrated
Active Ingredient Sodium hypochlorite
Percentage of active ingredients (concentrated) 1.84 %
Concentrated pH (25 °C) 12.4 - 12.8
Volume 3,78 L
Unit Converter
Detailed Description
Concentrated bleach disinfectant cleaner
Clean-Up bleach disinfectant cleaner is specially formulated to disinfect and remove stubborn dirt, grime and soap residue. If used with the recommended dilution, this disinfectant cleaner is ideal to clean and disinfect floors, cabinets, toilets, showers, benches, garbage cans, walls, handles and switches.
This concentrated bleach disinfectant cleaner is approved by Health Canada (DIN 02319470) and prevents the bacterial growth on hard non porous surfaces.
Clean-Up disinfectant cleaner contains 1.84 % of sodium hypochlorite (18 400 ppm)which is exceeding the concentration (5,000 ppm) of sodium hypochlorite recommended by Centers of disease control and prevention.
Designed to generate only a faint odor of bleach, this disinfectant cleaner contains a corrosion inhibitor which, so far as the disinfectant cleaner is used according to the instructions, will be safe to use on a wide variety of surfaces without damage.
You may also need disinfecting wipes without bleach or ready to use bleach disinfectant cleaner.
Technical Specifications
| | |
| --- | --- |
| Manufacturer | Clorox |
| Type | Concentrated |
| Active Ingredient | Sodium hypochlorite |
| Percentage of active ingredients (concentrated) | 1.84 % |
| Concentrated pH (25 °C) | 12.4 - 12.8 |
| Volume | 3,78 L |
| Units/Case | 4 |
| Color | Clear |
| Fragrance | Unscented |
| Solubility | Water soluble |
| Storage | Avoid excessive heat, flames and sparks |