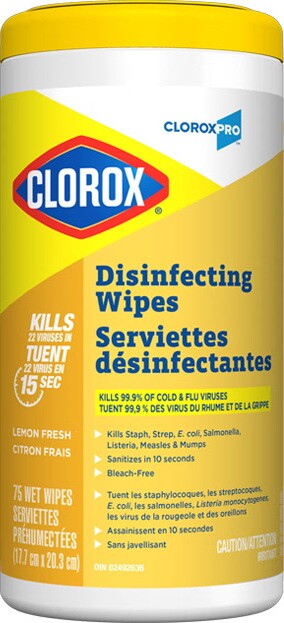 This product
is not available

with the option set selected. Please try another set of options.
If you have any questions, please contact us.

514-645-2753
Clorox Disinfecting Wipes CLOROX
Wet disinfecting wipes
CL001292000
In stock
Part List

Technical Specifications
Active Ingredient Quaternary ammonium
Sheets/Box 75 sheets
Units/Case 6 bottles
Color White
Model Clorox commercial
Unit Converter
Detailed Description
Wet disinfecting wipes
Don't just use any wipe, use America's #1 disinfecting wipes. CLOROX brand Disinfecting Wipes kill 99.9% of common illness-causing germs including Staphylococcus aureus (Staph), Salmonella enterica, Escherichia coli (E. coli) and the viruses that cause colds and flu.
Clorox brand Disinfecting Wipes can be used almost anywhere to clean and disinfect particularly high-traffic environments such as health clubs, schools and day-care facilities. These disinfecting wipes are safe for use on most surfaces including acrylic, glass and vinyl.
These CLOROX disinfecting wipes are perfect for the following places:
Office: keyboards, phones, workstations, lamps, filing cabinets, handles
Health clubs: sinks, counters, shower curtains, walls, faucets, toilet seats, toilet bowls, cabinets
Schools and daycares: play yards, diaper pails, desks, faucets, handles, toys
You may also need bleach disinfecting wipes or concentrated bleach disinfectant cleaner.
Technical Specifications
| | |
| --- | --- |
| Active Ingredient | Quaternary ammonium |
| Sheets/Box | 75 sheets |
| Units/Case | 6 bottles |
| Color | White |
| Model | Clorox commercial |
| Efficacy | 99.9% germs |
| Feature | Bleach Free |
| Type | Hard surfaces |
| Manufacturer | Clorox |