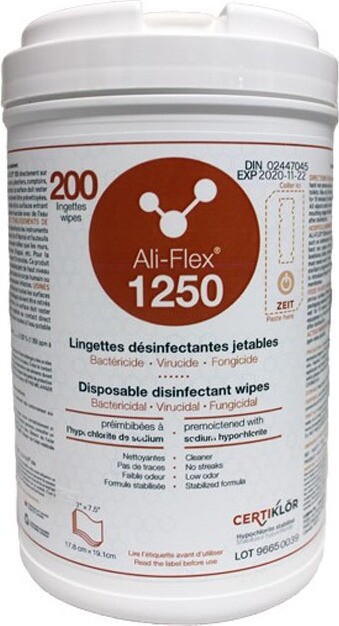 This product
is not available

with the option set selected. Please try another set of options.
If you have any questions, please contact us.

514-645-2753
Lalema Disposable Disinfectant Wipes ALI-FLEX 1250
Disposable disinfectant wipes premoistened with stabilized sodium hypochlorite (1,250 ppm) for use in the healthcare, institutional and commercial settings
LM009665L95
In stock
Part List
Safety Data Sheet
Technical Bulletin

Technical Specifications
Type Ready to use wipes
Number of wipes 200
Active Ingredient Sodium hypochlorite
Percentage of active ingredients 0.125 %
Concentrated pH (25 °C) 12.3 - 14.0
Certifications Canadian Food Inspection Agency Drug Identification Number (disinfectant) Products containing stabilized hypochlorite
Unit Converter
Detailed Description
Premoistened stabilized sodium hypochlorite wipes
Ali-Flex 1250 are premoistended disinfectant wipes that is ready to use with stabilized sodium hypochlorite (0.125% / 1250 ppm). This unique product offers a lot of advantages. The 70% microfiber wipes of Ali-Flex 1250 are time saving and user friendly because the product doesn't require additional dilution or manipulation of concentrated chemicals.
Visit our detailed page about this product and discover the Ali-Flex product range on its dedicated website.
The cleaning agents in Ali-Flex® 1250 enable the liquid to wet entirely non-porous surfaces, while degreasing and penetrating through dirt (such as urine, blood and feces). The product can also be used in food establishments.
Advantages:


70% microfiber wipes ready to use
Contains 1,250 ppm of stabilized sodium hypochlorite
Virucidal / Bactericidal / Fungicidal
Economize energy required to clean
Contains powerful cleaning agents
Has an indicator to track product's freshness
Formula preventing corrosion
Low odor
ALI-FLEX 1250 is a chlorinated disinfectant with stabilized hypochlorite (DIN: 02447045).
Technical Specifications
| | |
| --- | --- |
| Manufacturer | Lalema |
| Type | Ready to use wipes |
| Number of wipes | 200 |
| Active Ingredient | Sodium hypochlorite |
| Percentage of active ingredients | 0.125 % |
| Concentrated pH (25 °C) | 12.3 - 14.0 |
| Fragrance | Unscented |
| Color | Colorless |
| Flammability | Nonflammable |
| Specific gravity (25 °C) | 0.995 - 1.015 |
| Stability | Stable 1 year between 15 °C and 30 °C |
| Storage | Avoid frost and excessive heat |