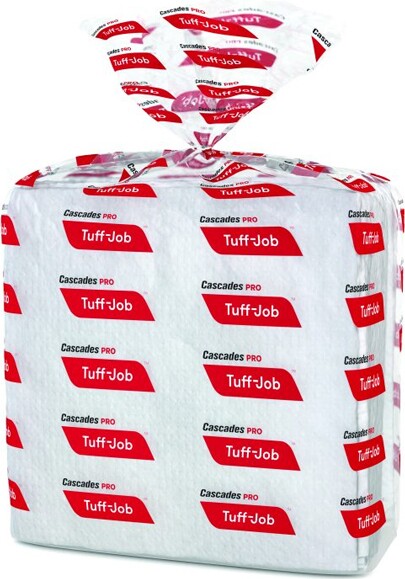 This product
is not available

with the option set selected. Please try another set of options.
If you have any questions, please contact us.

514-645-2753
Cascades W420 Double recrepe Tuff-Job Wipers, Mediuem, 1/4 fold
Cascades Tuff Job DRC (double recrepe) medium duty wipers are highly absorbent and ideal for routine cleaning.
CC00W420000
In stock
Part List

Technical Specifications
Color White
Sheets/Pack 60 wipers
Pack/Case 18
Length 12'' (30.5 cm)
Width 13'' (33 cm)
Unit Converter
Detailed Description
Made with a minimum of 45% recycled fiber, Cascades PRO Tuff-Job DRC (double recrepe) wipers provide a cloth-like feel with consistent quality and performance.
They contain the best combination of wiping qualities resulting in an excellent all-purpose wiper.
This medium duty wiper comes in a polywrap packaging, which allows wipers to remain protected and portable. DRC medium is ideal for general all-purpose wiping at a great value.
Technical Specifications
| | |
| --- | --- |
| Color | White |
| Sheets/Pack | 60 wipers |
| Pack/Case | 18 |
| Length | 12'' (30.5 cm) |
| Width | 13'' (33 cm) |
| Manufacturer | Cascades |
| Brand | Tuff-Job |