This product has been replaced by:
#WH00600B000
Bucket and Wringer Galvanized Steel
Back to top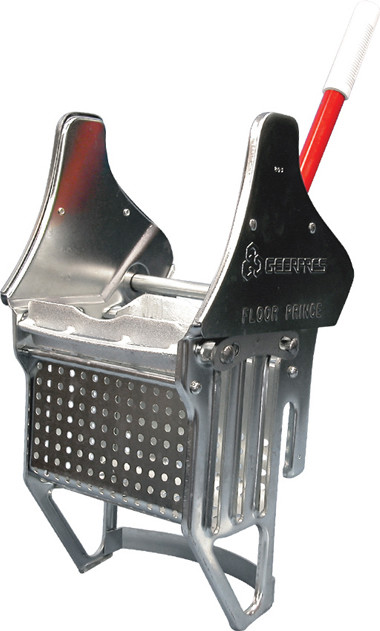 This product
is not available

with the option set selected. Please try another set of options.
If you have any questions, please contact us.

514-645-2753
Advantage 91021 Down Press Wringer Galvanized Metal
Galvanized Metal Wringer, Press Down for Traditionnal Wet Mops.
WH091021000
In stock
Part List

Technical Specifications
Use Wringer
Wringer Downpress
Material Galvanized Metal
Color Chrome
Unit Converter
Detailed Description
Gear Down Pressure Wringers Galvanized Metal
The galvanized metal wringer features an eccentric gearing system forces pressure pads straight down on the mop for easy and no splash wringing. Designed to make mop wringing easier and faster.
Technical Specifications
| | |
| --- | --- |
| Use | Wringer |
| Wringer | Downpress |
| Material | Galvanized Metal |
| Color | Chrome |
| Manufacturer | Advantage |
Related Products
Material Galvanized Metal
Color Chrome
Kind of Wheel 2" (5.1 cm)
Feature Transport handle
Manufacturer Advantage
Manufacturer Lalema
Fragrance Fresh
Color Light Amber
Concentrated pH (25 °C) 5.7 - 7.3
Solubility Water soluble
Specific gravity (25 °C) 1.010 - 1.030
Flammability Nonflammable
Biodegradability Readily biodegradable
Stability Stable between 10 °C and 40 °C
Storage Avoid frost and excessive heat
Use Odor Controller
Volume 2 L
Colony-forming unit 107 CFU / mL