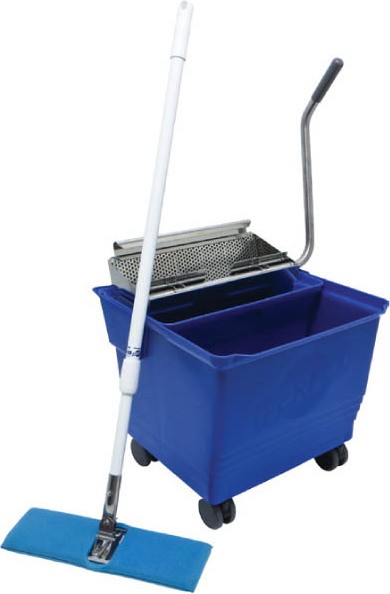 This product
is not available

with the option set selected. Please try another set of options.
If you have any questions, please contact us.

514-645-2753
Perfex 30-2 Flat Mop System TruCLEAN 2
TruCLEAN 2 mopping systems utilize a bucket-in-bucket design to capture and isolate contaminants from cleaning and disinfecting agents. Compact design is perfect for cleaning in confined areas, allows easy storage with limited space.
PX000302BLE
In stock
Part List
Technical Bulletin

Technical Specifications
Capacity 9.5 gal US (36 L)
Containers/Station Polypropylene
Frame Material Stainless Steel
Handle Material Polymer
Wheel diameter 3" (7,6 cm)
Unit Converter
Detailed Description
Flat Mop System TruCLEAN 2
Unique bucket-in-bucket design featuring the all new 36-Liter bucket, redesigned to increase stability and improve function. 36-Liter bucket includes (four) 3-inch casters, one with brake. Stainless steel TruCLEAN Wringer mounts firmly into waste containment bucket. Capture and isolate soiled contaminants while delivering unadulterated cleaning and sanitizing agents to floors, walls and ceilings.
Lightweight, yet remarkably durable 36 Liter bucket is made with temperature-resistant polypropylene. Includes embossed graduations for accurate measure and 3-inch, twin-wheel casters.
Each mopping system component will play an important role towards effective contamination control. The TruCLEAN Wringer for example, exerts force evenly across entire mop surface, increasing the amount of discharged contaminants.
Compatible with gamma, ethylene oxide and autoclave sterilization. (Up to 250°F/121°C for 30 minutes).
Features and benefits:


High-quality stainless steel components
Mop Frame and Polymer Adjustable Handle Included
Compact design for easy storage in confined areas
Ergonomic wringer with non-slip grip to reduce worker fatigue
Technical Specifications
| | |
| --- | --- |
| Capacity | 9.5 gal US (36 L) |
| Containers/Station | Polypropylene |
| Frame Material | Stainless Steel |
| Handle Material | Polymer |
| Wheel diameter | 3" (7,6 cm) |
| Model | TruCLEAN 2 |
| Manufacturer | Perfex |
Related Products
Manufacturer Perfex
Model TruCLEAN
Capacity 36 L
Material Polypropylene
Heigth 17.5" (44.4 cm)
Length 19.5" (49.5 cm)
Width 18.5" (47 cm)