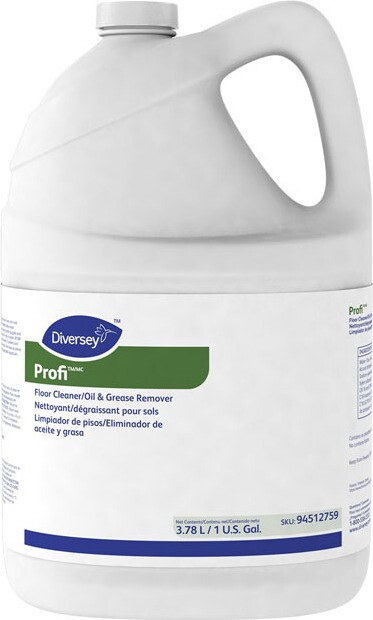 This product
is not available

with the option set selected. Please try another set of options.
If you have any questions, please contact us.

514-645-2753
Diversey Floor Cleaner Degreaser Profi
Non-alkaline floor cleaner degreaser designed to clean, to scub and for preparation maintenance
JH255099000
In stock
Part List
Technical Bulletin

Technical Specifications
Volume 3.78 L
Fragrance Mild
Color White
Suggested Dilution 1:32
pH 8.3
Unit Converter
Detailed Description
Profi floor cleaner degreaser
Profi non-alkaline floor cleaner and grease remover specifically designed for preparation and ongoing maintenance of specialty floors such as rubber and linoleum (marmoleum).
An integral part of a comprehensive floor care program for cleaning, stripping and sealing rubber floors. Profi is highly effective, solvent-free and emulsifies dirt quickly. White in color with a mild scent.
Gentle enough to use on resilient or rubber flooring
Non-ionic oil and grease remover for all resilient and synthetic rubber flooring
Neutral pH and butyl-free
Technical Specifications
| | |
| --- | --- |
| Volume | 3.78 L |
| Fragrance | Mild |
| Color | White |
| Suggested Dilution | 1:32 |
| pH | 8.3 |
| Concentrated pH (25 °C) | 8.8 |
| Manufacturer | Diversey - Sealed Air |