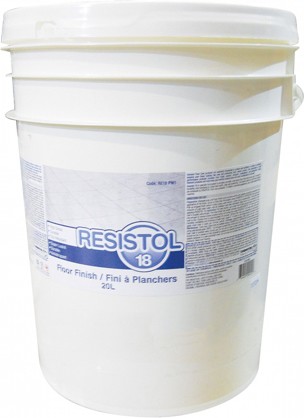 This product
is not available

with the option set selected. Please try another set of options.
If you have any questions, please contact us.

514-645-2753
Safeblend RE18-20L Floor Finish RESISTOL 18
This high-quality Floor Finish is specially formulated to provide a durable, high-gloss floor finish after every job. It excels in durability and black heel scuffs, slip and powdering resistance.
JVRE180020L
In stock
Part List
Technical Bulletin

Technical Specifications
Color White
Concentrated pH (25 °C) 8.5 - 9.0
Percent non-volatile solids 18 %
Type Floor finish
Viscosity (25 °C) < 1000 cps
Unit Converter
Detailed Description
Floor Finish RESISTOL 18
The natural colours of all floor surfaces are enhanced by RESISTOL 18 floor care products. To obtain a "wet-look" appearance, use a high-speed buffing machine with.
18% acrylic floor finish
Excellent gloss, durability and reparability
Easy to apply
Suitable for high and low speed maintenance programs
Suitable for food plant use in Canada
Technical Specifications
| | |
| --- | --- |
| Color | White |
| Concentrated pH (25 °C) | 8.5 - 9.0 |
| Percent non-volatile solids | 18 % |
| Type | Floor finish |
| Viscosity (25 °C) | < 1000 cps |
| Brand | Resistol 18 |
| Manufacturer | Safeblend |