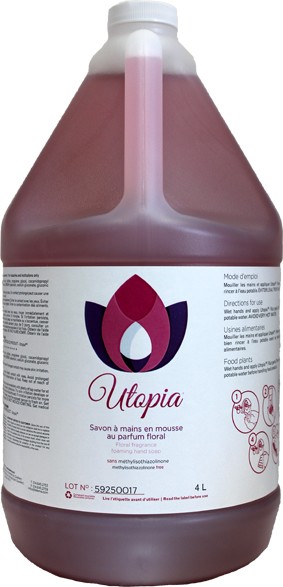 This product
is not available

with the option set selected. Please try another set of options.
If you have any questions, please contact us.

514-645-2753
Lalema Foaming Liquid Hand Soap UTOPIA
UTOPIA is a foaming liquid hand soap with a soft floral fragrance. Utopia contains skin protecting emollients and surfactants that clean, soften and moisturize the skin.
LM0059254.0
In stock
Part List
Safety Data Sheet
Technical Bulletin

Technical Specifications
Color Violet
Concentrated pH (25 °C) 5.0 - 7.0
Feature Liquide
Flammability Nonflammable
Fragrance Floral
Unit Converter
Detailed Description
Foaming Hand Soap UTOPIA
Utopia is a foaming liquid hand soap with a soft floral fragrance. Utopia contains skin protecting emollients and surfactants that clean, soften and moisturize the skin. Utopia*'s blend of cosmetic ingredients provides a rich and luxurious lather that floats away dirt and grime leaving the skin smooth and clean. This product is designed to be used in a foaming dispenser
Advantages:
Soft floral fragrance
Rich and luxurious foam
Gentle on hands
Methylisothiazolinone free
Technical Specifications
| | |
| --- | --- |
| Color | Violet |
| Concentrated pH (25 °C) | 5.0 - 7.0 |
| Feature | Liquide |
| Flammability | Nonflammable |
| Fragrance | Floral |
| Specific gravity (25 °C) | 0.990 - 1.010 |
| Stability | Stable between 10 °C and 40 °C |
| Storage | Avoid frost and excessive heat |
| Use | Hands |
| Viscosity (25 °C) | > 40 cPs |
| Manufacturer | Lalema |