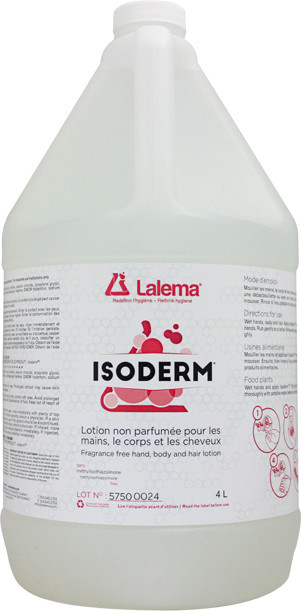 This product
is not available

with the option set selected. Please try another set of options.
If you have any questions, please contact us.

514-645-2753
Lalema Fragrance-Free Hand, Body and Hair Lotion Isoderm
Fragrance free hand, body and hair shampoo for delicate skin
LM0057504.0
In stock
Part List
Safety Data Sheet
Technical Bulletin

Technical Specifications
Fragrance Unscented
Color Colorless
Concentrated pH (25 °C) 6.0 - 7.0
Specific gravity (25 °C) 1.020 - 1.030
Viscosity (25 °C) < 2,000 cPs
Unit Converter
Detailed Description
Fragrance free hand, body and hair shampoo
ISODERM is a rich and smooth hand, body and hair lotion that will leave the skin clean and soft. Free of fragrance and irritant, this lotion is particularly suited for people sensitive to fragrance or for those who need to wash their hands frequently.
ISODERM is the hand, body and hair shampoo ideal for filling the soap dispensers of health centers, sports centers, hotels, food processing industries and educational institutions.
Methylisothiazolinone free
Technical Specifications
| | |
| --- | --- |
| Manufacturer | Lalema |
| Fragrance | Unscented |
| Color | Colorless |
| Concentrated pH (25 °C) | 6.0 - 7.0 |
| Specific gravity (25 °C) | 1.020 - 1.030 |
| Viscosity (25 °C) | < 2,000 cPs |
| Flammability | Nonflammable |
| Stability | Stable between 10 °C and 40 °C |
| Storage | Avoid frost and excessive heat |