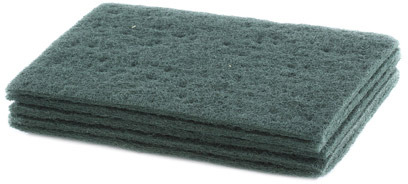 This product
is not available

with the option set selected. Please try another set of options.
If you have any questions, please contact us.

514-645-2753
These manual green scrubbing pads from Atlas Graham are designed for cleaning and scrubbing surfaces and all kind of heavy-duty works. Use manually or with Padlok pad-holder.
AG006960000
In stock
Part List

Technical Specifications
Color Green
Feature Everyday cleaning
Length 9" (22.9 cm)
Model Pad
Resistance Medium
Unit Converter
Our best suggestions
Detailed Description
Scrubbing Pad - Green from Atlas Graham
This scrubbing pad is 9" by 6", green and medium-scrub scouring pad for handheld scrubbing of most surfaces.
Technical Specifications
| | |
| --- | --- |
| Color | Green |
| Feature | Everyday cleaning |
| Length | 9" (22.9 cm) |
| Manufacturer | Atlas Graham Furgale |
| Model | Pad |
| Resistance | Medium |
| Use | Scrubbing |
| Width | 6" (15.2 cm) |
Related Products
Length 9" (22.9 cm)
Width 3" (7.6 cm)
Color Black
Model Pad holder
Use Scrubbing
Manufacturer Atlas Graham Furgale
Color Pink
Volume 2 L
Yield per 2 L Bottle 280 ready to use liters
Fragrance Fresh
Manufacturer 3M