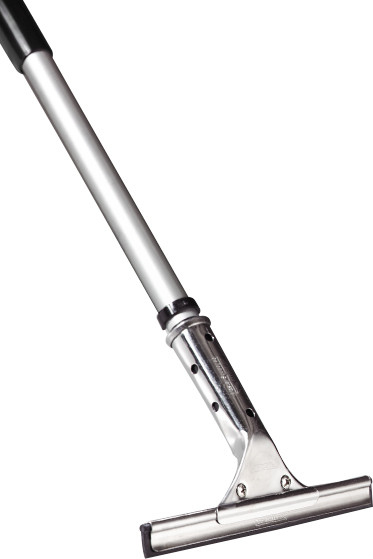 This product
is not available

with the option set selected. Please try another set of options.
If you have any questions, please contact us.

514-645-2753
3M 7100134340 Heat-Resistant Squeegee # 410
Griddle Squeegee # 410
3M00H410000
In stock
Part List

Technical Specifications
Use Griddle
Serie 410
Dimensions 7" (17.8 cm)
Color Black
Feature Heat-resistant
Unit Converter
Detailed Description
Scotch-Brite Quick Clean Griddle Squeegee System
Specially designed for use with the Scotch-Brite Quick Clean Griddle System, this squeegee features a flexible, heat-resistant 7" rubber blade attached to a 17 ¾" handle to remove liquid residue from the griddle surface to the grease trap and keep hands away from hot surfaces and food residue.
Technical Specifications
| | |
| --- | --- |
| Use | Griddle |
| Serie | 410 |
| Dimensions | 7" (17.8 cm) |
| Color | Black |
| Feature | Heat-resistant |
| Wand | 17-3/4" |
| Manufacturer | 3M |
Related Products
Color Colorless
Fragrance Unscented
Concentrated pH (25 °C) 11.7 - 14.0
Solubility Water soluble
Specific gravity (25 °C) 1.130 - 1.150
Flammability Nonflammable
Stability Stable between 10 °C and 40 °C
Storage Avoid frost and excessive heat
Manufacturer Lalema
Material Latex
Feature Powder free
Type Reusable
Use Dishwashing
Length 12" (30,5cm)
Resistance Liquid - Cuts - Abrasive - Chemical
Thickness 20 mil
Liner Cotton
Color Beige
Manufacturer Ansell