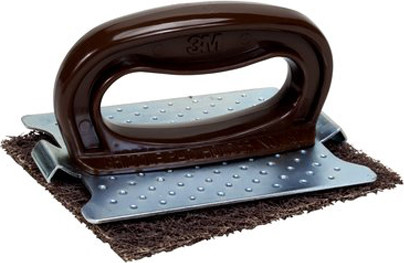 This product
is not available

with the option set selected. Please try another set of options.
If you have any questions, please contact us.

514-645-2753
3M 7000136423 Heavy-Duty Griddle Cleaning Pad Scotch-Brite # 82
Cooled and Hot Griddles Heavy-duty Pad
3M070012000
In stock
Part List

Technical Specifications
Use Griddle
Serie 82
Dimensions 4-1/2" x 5-1/2"
Color Brown
Model Pad
Unit Converter
Our best suggestions
Detailed Description
Cooled and Hot Griddles Pad
Two part griddle cleaning system removes heavily burned-on good and grease to provide a spotless, shiny griddle in minutes – with less mess and residue and no unpleasant odours.
Technical Specifications
| | |
| --- | --- |
| Use | Griddle |
| Serie | 82 |
| Dimensions | 4-1/2" x 5-1/2" |
| Color | Brown |
| Model | Pad |
| Feature | Cooled or hot griddles |
| Manufacturer | 3M |
Related Products
Color Colorless
Fragrance Unscented
Concentrated pH (25 °C) 11.7 - 14.0
Solubility Water soluble
Specific gravity (25 °C) 1.130 - 1.150
Flammability Nonflammable
Stability Stable between 10 °C and 40 °C
Storage Avoid frost and excessive heat
Manufacturer Lalema