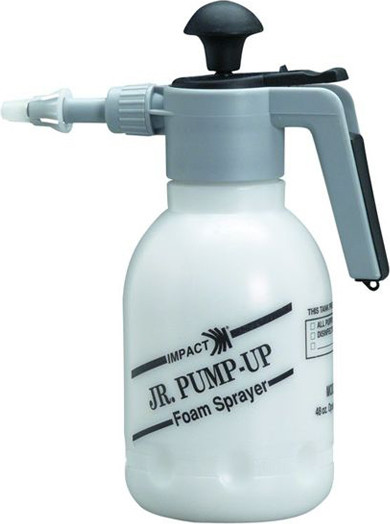 This product
is not available

with the option set selected. Please try another set of options.
If you have any questions, please contact us.

514-645-2753
Impact 7548 Jr. Pump-Up Manual Sprayer 48 oz
48 oz Manual Pump-Up Viton Sprayer
WH007548000
In stock
Part List

Technical Specifications
Volume 48 oz
Type Hand Pump Sprayer
Use Chemical
Color Clear
Unit Converter
Detailed Description
Sprayer 48 oz manual pression pump
Sprayer easy to use with convenient 48 oz capacity. Increased chemical resistance with viton seals.
Technical Specifications
| | |
| --- | --- |
| Volume | 48 oz |
| Type | Hand Pump Sprayer |
| Use | Chemical |
| Color | Clear |
| Manufacturer | Impact |
Related Products
Manufacturer Lalema
Fragrance Fresh
Color Light Amber
Concentrated pH (25 °C) 5.7 - 7.3
Recommended Dilution* 1:3
Solubility Water soluble
Specific gravity (25 °C) 1.010 - 1.030
Flammability Nonflammable
Biodegradability Readily biodegradable
Stability Stable between 10 °C and 40 °C
Storage Avoid frost and excessive heat
Use Odor Controller
Colony-forming unit 107 CFU / mL