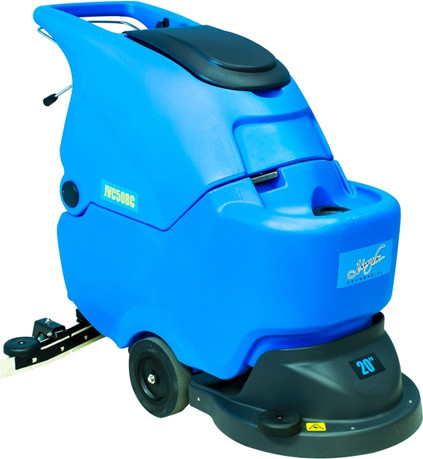 This product
is not available

with the option set selected. Please try another set of options.
If you have any questions, please contact us.

514-645-2753
Johnny Vac JVC50BC JVC50BC - Autoscrubber 20'' - Johnny Vac
JVC50BC - 20" autoscrubber - Johnny Vac gel batteries & charger included
JB0C50BC000
In stock
Part List

Technical Specifications
Brush Width 32" (81.3 cm)
Heigth 38" (96 cm)
Length 48" (121,9 cm)
Powerful Brush Motor 560 W
Solution tank capacity 13 gal US (50 L)
Unit Converter
Detailed Description
This machine has a V-shape squeegee-assembly: no stains or waste water residues. The squeegee blades can be used in four directions, easing the job. With a key-type switch.
Battery meter and timing function for operation, easy for man-hour calculation. Special air ducts for motor air intake and exhaust: have cold an hot air unmixed, guaranteeing service life of motor. Brush system adopts automatic assembly and disassembly design without any tools.
Battery and charger included
Technical Specifications
| | |
| --- | --- |
| Brush Width | 32" (81.3 cm) |
| Heigth | 38" (96 cm) |
| Length | 48" (121,9 cm) |
| Manufacturer | Johnny Vac |
| Powerful Brush Motor | 560 W |
| Solution tank capacity | 13 gal US (50 L) |
| Vacuum Motor | 450 W |
| Voltage | 12VDC x 2 |
| Weight | 276 lbs |
| Width | 20" (45.7 cm) |
| Working Width | 20" (50.8 cm) |
| Yield | 20 990 sq. ft/h |
Related Products
Color Green
Fragrance Lime
Concentrated pH (25 °C) 2.7 - 4.3
Average dilution* 1:80
Solubility Water soluble
Specific gravity (25 °C) 0.995 - 1.015
Flammability Nonflammable
Biodegradability Readily biodegradable
Stability Stable between 10 °C and 40 °C
Storage Avoid frost and excessive heat
Manufacturer Lalema
Color Red
Fragrance Orange
Concentrated pH (25 °C) 6.0 - 7.6
Average dilution* 1:32
Solubility Water soluble
Specific gravity (25 °C) 0.995 - 1.015
Flammability Nonflammable
Biodegradability Readily biodegradable
Stability Stable between 10 °C and 40 °C
Storage Avoid frost and excessive heat
Manufacturer Lalema