This product has been replaced by:
#QC000NUHE04
Ultra-Concentrated Laundry Detergent ULTRA HE
Back to top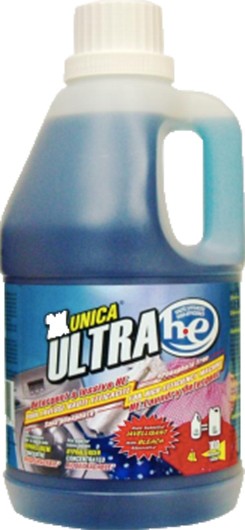 This product
is not available

with the option set selected. Please try another set of options.
If you have any questions, please contact us.

514-645-2753
Unica NUHE04 Laundry Detergent UNICA ULTRA HE
It is specially formulated to provide maximum cleaning with the right amount of suds in high-efficiency machine.
QC00NUHE040
In stock
Part List
Technical Bulletin

Technical Specifications
Color Blue
Storage Keep out from freezing
Fragrance Fresh scent
Volume 4 L
Unit Converter
Detailed Description
Laundry Detergent UNICA ULTRA HE
UNICA ULTRA HE Ultra-concentrated laundry detergent is made of high-quality ingredients. It is specially formulated to provide maximum cleaning with the right amount of suds in high-efficiency machine. It contains special cleaners and removers giving a remarkable efficiency to remove stubborn stains while being gentle enough for delicate fabrics. UNICA ULTRA HE is super-efficient in hot, warm or cold water and is colour safe. It also contains water softeners improving the detergence and corrosive inhibitors protecting the washing machine.

ADVANTAGES


It is biodegradable and not harmful for the environment
Contains colour brighten agent for tinted fabrics and a bleach alternative to keep brand new white fabrics aspect
Has a controlled pH in order to obtain an optimal cleaning for all the loads
Provide a optimal cleaning with the right amount of suds in high-efficiency machine
Very economical ultra concentrated product and specially formulated for high-efficiency machine
Technical Specifications
| | |
| --- | --- |
| Color | Blue |
| Storage | Keep out from freezing |
| Fragrance | Fresh scent |
| Volume | 4 L |
| Manufacturer | Unica |
Related Products
Manufacturer Unica
pH 3.8 - 4.0
Specific gravity (25 °C) 0.98g / cc
Color Green
Fragrance Green apple
Storage Avoid frost and excessive heat
Color Light amber
Volume 3.78 L
Concentrated pH (25 °C) 8.5 - 10.5
Solubility Water soluble
Specific gravity (25 °C) 1.020 - 1.040
Flammability Nonflammable
Stability Stable between 10 °C and 40 °C
Storage Avoid frost and excessive heat
Fragrance Unscented
Manufacturer Lalema
Sheets/Box 200 sheets
Fragrance Fresh
Manufacturer The Procter & Gamble Company
Brand Bounce
Color White
Format Box
Volume In a box