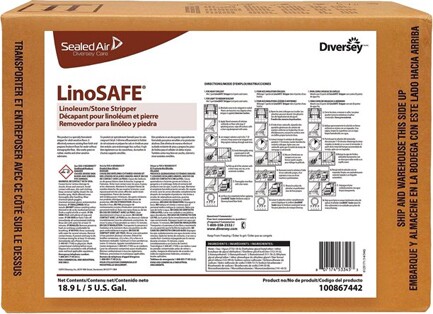 This product
is not available

with the option set selected. Please try another set of options.
If you have any questions, please contact us.

514-645-2753
Diversey Linoleum Floor Stripper LinoSAFE
LinoSAFE Linoleum and Marble Stripper
JH006744200
In stock
Part List
Technical Bulletin

Technical Specifications
Detailed Description
LinoSAFE Linoleum and marble stripper
LinoSAFE effectively removes existing floor finish and prepares linoleum (marmoleum) floors for LinoBASE Sealer without damage done to the floor. Also works great on marble and other sensitive substrates. Colorless with a solvent scent.
A specially-formulated stripper for alkali-sensitive floors. Safe for use on Linoleum (marmoleum) - will not damage or discolor floors.
Johnson strippers reputation is undeniable. Now under the banner of Sealed Air.
Technical Specifications
| | |
| --- | --- |
| Color | Colorless |
| Volume | 18,9 L |
| Fragrance | Characteristic |
| Manufacturer | Diversey - Sealed Air |
Related Products
Volume 18.9 L
Color White
Fragrance Mild
Manufacturer Diversey - Sealed Air
Type Floor sealer
Concentrated pH (25 °C) 9.76
Shelf life 2 years
Storage Avoid excessive heat, flames and sparks
Volume 3.78 L
Color White
Fragrance Mild
Manufacturer Diversey - Sealed Air
pH 8.3
Concentrated pH (25 °C) 8.8
Suggested Dilution 1:32