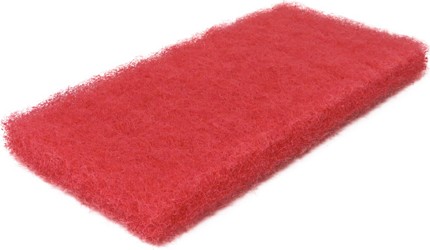 This product
is not available

with the option set selected. Please try another set of options.
If you have any questions, please contact us.

514-645-2753
Perfex 5300 Medium Duty Red Scrubbing Pads
10" medium duty rouge scrubbing pads are made of polyester and great for moderate scrubbing of pots and pans.
PX005300ROU
In stock
Part List

Technical Specifications
Color Red
Feature Medium duty
Heigth 1" (2.5 cm)
Length 10" (25,4 cm)
Material Polyester
Unit Converter
Detailed Description
Medium Duty Red Scrubbing Pads
Simply attach scrubbing pad to scrub pad holder (#5000) and you're ready to start scrubbing. The 10" heavy duty polyester blue pad is ideal for scrubbing grills, broilers and brickwork.
Technical Specifications
| | |
| --- | --- |
| Color | Red |
| Feature | Medium duty |
| Heigth | 1" (2.5 cm) |
| Length | 10" (25,4 cm) |
| Material | Polyester |
| Units/Case | 20 pads |
| Width | 4.75" (12 cm) |
| Manufacturer | Perfex |