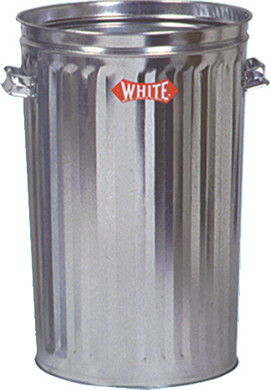 This product
is not available

with the option set selected. Please try another set of options.
If you have any questions, please contact us.

514-645-2753
Advantage 12143NL Metal Galvanized Garbage Cans
Metal galvanized waste containers for an indoor or outdoor used. The lids are sold separately.
WH12143NL00
In stock
Part List

Technical Specifications
Color Chrome
Finish Brush
Feature No Lid
Material Galvanized steel
Unit Converter
Detailed Description
Indoor and outdoor metal galvanized waste container
This galvanized metal waste container is designed for an indoor or outdoor used as needed. The waste containers 12143NL and 12153NL fit with lid 12143L. The waste container 12163NL fits with 12163L.
| Capacity | Dimension |
| --- | --- |
| 16,5 gallons | 17" diam x 25" |
| 20 gallons | 17" diam x 29" |
Technical Specifications
| | |
| --- | --- |
| Color | Chrome |
| Finish | Brush |
| Feature | No Lid |
| Material | Galvanized steel |
| Manufacturer | Advantage |
Related Products
Format 26" X 36"
Model Industrial
Manufacturer Lalema
Thickness 0.80-0.95-1.3 mils
Strength Regular
Type Lid
Material Galvanized steel
Use Indoor / Outdoor
Color Chrome
Model White
Manufacturer Advantage
Format 30" X 38"
Model Industrial
Manufacturer Lalema
Thickness 0.80-0.95-1.3 mil