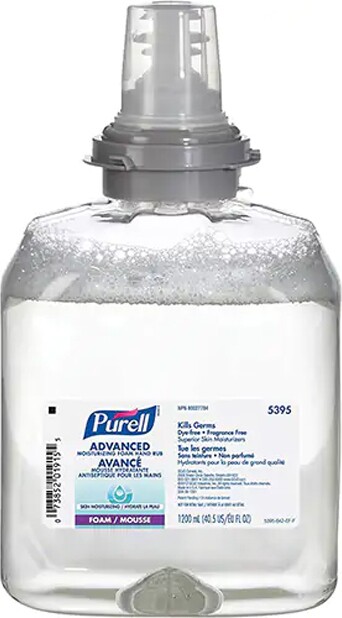 This product
is not available

with the option set selected. Please try another set of options.
If you have any questions, please contact us.

514-645-2753
Gojo 5195-03 Moisturizing Foam Hand FMX-12 from Purell
Hand Foam lotion with moisturizer and antiseptique agents. Ecological hand soap with fragrance and dye free.
GJ519503000
In stock
Part List

Technical Specifications
Volume 1.2 L
Type Foam
Feature Moisturizing
Units/Case 3 refill
Fragrance Fragrance free
Unit Converter
Detailed Description
PURELL Advanced Moisturizing Foam Hand Rub FMX-12 from Gojo
This green certified moisturizing foam hand rub has six different moisturizers for optimal skin conditioning. Clinically proven to improve skin condition in 14 days. This scientifically advanced, patent-pending 70% formulation outperforms other leading hand sanitizers milliliter for milliliter.
Clinically proven to help maintain skin health. Compatible with latex, nitrile and vinyl gloves, and CHG. Meets EcoLogo™ hand sanitizer standard CCD-170 for environmental leadership and proven performance.
Made from 100% naturally renewable ethanol. Readily biodegradable non-aerosol foam formula. Fragrance free and dye free.
Technical Specifications
| | |
| --- | --- |
| Volume | 1.2 L |
| Type | Foam |
| Feature | Moisturizing |
| Units/Case | 3 refill |
| Fragrance | Fragrance free |
| Use | Hand |
| Color | Colorless |
| Model | FMX-12 |
| Manufacturer | Gojo |