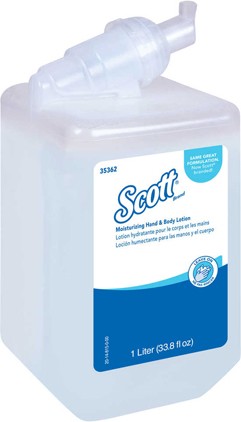 This product
is not available

with the option set selected. Please try another set of options.
If you have any questions, please contact us.

514-645-2753
Kimberly-Clark 35362 Moisturizing Hand and Body Lotion Scott Control
Scott Control moisturizing Hand & Body Lotion is specially formulated to moisturize dry skin. It's a popular choice for environments where you're encouraging frequent hand washing, as the non-greasy formula aids in preventing dry skin.
KC035362000
In stock
Part List

Technical Specifications
Detailed Description
Moisturizing Hand and Body Lotion Scott Control
This hand lotion is specially formulated for dry skin, with skin conditioners and moisturizers such as glycerin and Vitamin E
The white body lotion has a light, fresh fragrance
The non-greasy formula leaves skin soft and smooth
1.0 L lotion refills fit with compatible skin care dispensers from Scott Control Professional
Technical Specifications
| | |
| --- | --- |
| Color | White |
| Fragrance | Fresh |
| Brand | Scott Control |
| Manufacturer | Kimberly-Clark |
Related Products
Color White
Fragrance Awapuhi
Concentrated pH (25 °C) 5.5 - 6.5
Solubility Water soluble
Specific gravity (25 °C) 1.020 - 1.030
Flammability Nonflammable
Stability Stable between 10 °C and 40 °C
Storage Avoid frost and excessive heat
Manufacturer Lalema
Viscosity (25 °C) > 800 cPs
Type Push Botton
Input Voltage 208-230 V - 60 Hz
Sound Level 75 dB
Hand Dry Time 30 seconds
Material Cast iron
Warranty 10 years
Heigth 9" (22.9 cm)
Width 10" (25,4 cm)
Depth 9" (22.9 cm)
Motor 1/6 hp
Motor Speed 12 000 rpm
Powerful 2300 watts
Airspeed 238 cfm
Model Airmax
Manufacturer Canada Hand Dryers