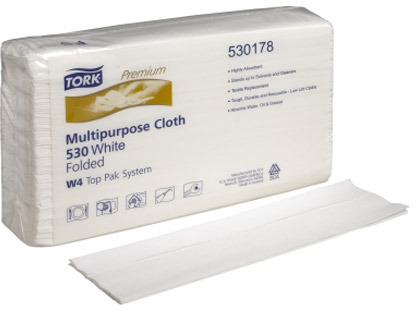 This product
is not available

with the option set selected. Please try another set of options.
If you have any questions, please contact us.

514-645-2753
Tork Multipurpose Cloth Tork Premium 530
Tork Premium Multipurpose Cloth 530 Top-Pak
SC530178A00
In stock
Part List

Technical Specifications
Color White
Pack/Case 5
Ply 1 ply
Sheets/Roll 100 sheets
System W4 - top holder wiper system
Unit Converter
Our best suggestions
Detailed Description
Tork Premium Multipurpose Cloth 530 Top-Pak
When nothing but the best will do, rely on Tork Premium 530 Multipurpose Cloth, the premier wipers. No matter what the task at hand - from heavy-duty cleaning to small wiping jobs - these top-of-the-line wipers deliver. And not only are they versatile, they're also convenient; the top-pak when combined with the Tork Performance W-4 dispensing system makes it as easy to access as they are to use.
Tork Premium 530 Multipurpose Cloth wipers are the cloths of choice for cleaning surfaces, tools and other heavy-duty maintenance wiping. Their high-absorbency makes cleaning up oil, grime, and solvents quick and easy, and their low-lint design makes them the perfect wipers for most jobs.
Because they're so versatile and long-wearing, you'll save both money and the time you previously spent on rags or rentals. With Tork Premium 530 Multipurpose Cloth, you'll get great results in less time with fewer wipers. This product contains 100% synthetic and virgin fibers.
Technical Specifications
| | |
| --- | --- |
| Color | White |
| Manufacturer | Tork |
| Pack/Case | 5 |
| Ply | 1 ply |
| Sheets/Roll | 100 sheets |
| System | W4 - top holder wiper system |