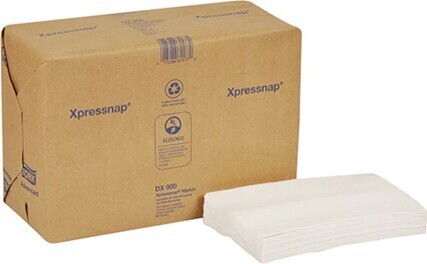 This product
is not available

with the option set selected. Please try another set of options.
If you have any questions, please contact us.

514-645-2753
Tork Napkins Xpress
White Napkin, 1 ply, 12 packs of 500 sheets in each case
SC0DX900000
In stock
Part List

Technical Specifications
Color White
Pack/Case 12 packs
Sheets/Pack 500 sheets
Sheets Width 4" (10.2 cm)
Sheets Length 7" (17.8 cm)
Unit Converter
Detailed Description
Napkins XPRESS
Tork Advanced Xpressnap® system dramatically reduces napkin usage. Its one-at-a-time napkin dispensing design ensures that patrons use fewer napkins and touch only the napkin they use improving personnel hygiene. Plus, one-at-a-time dispensing helps decrease consumption, so you'll reduce the number of cases you need to store.
Xpressnap napkins are larger than major competitor interfolded napkins offering strength, absorbency and quality to users. One napkin-at-a-time dispensing provides up to a 25% reduction in napkin usage. Smaller than standard napkin cases offers storage savings of up to 50%. Inner bag packaging ensures superior product quality while protecting unused napkins. This product contains 100% recycled fibers.
Technical Specifications
| | |
| --- | --- |
| Color | White |
| Pack/Case | 12 packs |
| Sheets/Pack | 500 sheets |
| Sheets Width | 4" (10.2 cm) |
| Sheets Length | 7" (17.8 cm) |
| Manufacturer | Tork |