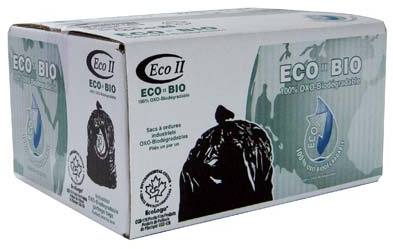 This product
is not available

with the option set selected. Please try another set of options.
If you have any questions, please contact us.

514-645-2753
Eco II OXO-Biodegradable Garbage Bags 26" X 36"
OXO-Biodegradable garbage bags 26" X 36" certified EcoLogo, 100 % biodegradable and no generation of toxic waste
GO733226NOI
In stock
Part List
Technical Bulletin

Technical Specifications
Detailed Description
OXO-Biodegradable garbage bags 26" X 36"
OXO-Biodegradable garbage bags are 100% biodegradable winthin 2 years. These garbage bags contain special products that accelerate the breaking down of the plastic chemical structure, making them edible for micro-organisms. Thanks to this technology, the garbage bags decompose into CO2, water and other nutritive elements for micro-organisms, without producing any toxic residue for the wildlife.
"Are these garbage bags going to decompose while I use them?"
No, the biodegradation of the garbage bag depends on other factors that usually occur after its use: heat, UV rays (sun), oxygen, mechanic stress, etc. These garbage bags also contain antioxidant that slowly dissipates over time and prevents the garbage bags to decompose as long as they are present, so that the garbage bags start to decompose only after use.
OXO-Biodegradable garbage bags are certified EcoLogo and can be used with any type of garbage. Moreover, organic wastes that are composted in OXO-Biodegradable plastic bags produce higher quality compost. During the process, the garbage bag disappears and contributes to the organic content of the compost.
Technical Specifications
| | |
| --- | --- |
| Manufacturer | Eco II |
| Format | 26" X 36" |
| Model | OXO-Biodegradable |