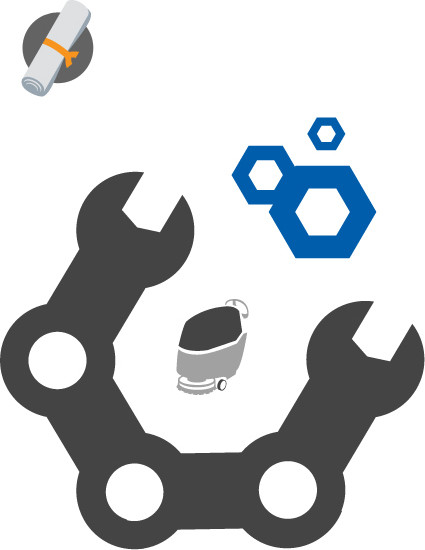 This product
is not available

with the option set selected. Please try another set of options.
If you have any questions, please contact us.

514-645-2753
Lalema Preventative Maintenance Training Workshop
Training workshop on how to use and how to maintain your own equipment. We offer you necessary tools, guidelines and recommandation for a easy maintenance.
LMEQUIPEMENT
In stock
Part List

Technical Specifications
Training Use and Maintenance
Topic Janitorial Equipment
Work Zone On-site or in Store
Training Costs Travel, Piece, Time (if applicable)
Target Audience Administrator, User, Mechanic
Unit Converter
Detailed Description
Training service for equipment use and maintenance
In order to improve your equipment efficency such as floor machine, autoscrubber, vaccum cleaner, dispenser, dilution systems, etc… It's important to know how to use them but also how to maintenance them.
Why pay a technician for basic and regular maintenance when you can train your employees to do it. Our training service is offering you necessary tools, guidelines for minor verification as well as essential recommendations on how to properly used and maintenance your devices.
Equipment maintenance is the key to increased lifetime but also in money saving. Take advantage of our expert service to train your employees to do their own maintenance.
Lalema is providing an after-sale service for your equipment. Our expert technician will be more than happy to come on-site to inquire you about essential equipment references tools (technical bulletin, owner manual, part list, schematic, ect…) and current cleaning techniques (scraper, hose, etc…). In addition, you may attend our expert over the phone for technical support.
Specific training:
Administrator - Demo, warranty, overview
Users - Current maintenance, how to use the equipment, recommendations for checks up
Mechanic - Full repair training, part list
Technical Specifications
| | |
| --- | --- |
| Training | Use and Maintenance |
| Topic | Janitorial Equipment |
| Work Zone | On-site or in Store |
| Training Costs | Travel, Piece, Time (if applicable) |
| Target Audience | Administrator, User, Mechanic |
Related Products
Services Analysis, Estimation, Repair, Maintenance
Brand Nacecare
Model Janitorial Equipment
Work Zone On-site or in Store
Fee Fees, Travel, Piece, Time (if applicable)
Technicien Certified
Training Classroom
Topic Work Organization
Target Audience Business and Institutions
Participants 6 to 8 attendees
Training Costs Training Fees + Travel, Meals, Lodging Expenses
Schedule Flexible