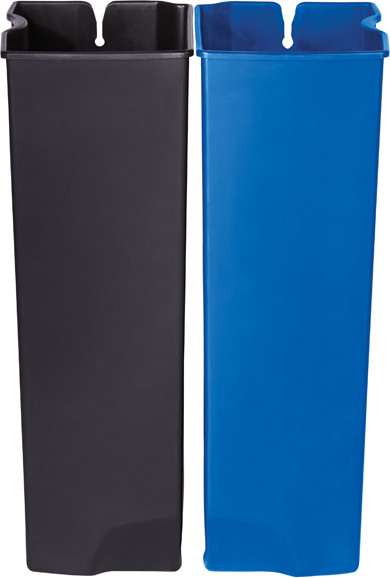 This product
is not available

with the option set selected. Please try another set of options.
If you have any questions, please contact us.

514-645-2753
Rubbermaid 1902008 Recycling Liner for Front Step-On Container, 13 gal
Dual liner to split trash and recycling. Fit with front/horizontal step stainless steel 13 gallons - 50 liters only.
RB190200800
In stock
Part List
Technical Bulletin

Technical Specifications
Capacity 13 gal US (50 L)
Type Double
Stream Type Waste / Recycling
Feature Stainless Steel Horizontal Opening Receptacle
Color Black and blue
Unit Converter
Detailed Description
Recycling liner for front step-on containers, 13 gallons - 50 liters
Two liner to split garbage and recycling. The black liner is use for regular trash and the blue liner for recycling. Theses liner are made for Slim Jim stainless steel front/horizontal step containers only. Constructed of durable, puncture-resistant plastic, this liner features smooth contours for easy cleaning and a liner retainer band to secure liner bags.
Technical Specifications
| | |
| --- | --- |
| Capacity | 13 gal US (50 L) |
| Type | Double |
| Stream Type | Waste / Recycling |
| Feature | Stainless Steel Horizontal Opening Receptacle |
| Color | Black and blue |
| Material | Resin |
| Heigth | 26" (65 cm) |
| Width | 11" (27.9 cm) |
| Depth | 17" (43 cm) |
| Model | Slim Jim |
| Manufacturer | Rubbermaid |
Related Products
Capacity 13 gal US (50 L)
Heigth 29" (73.7 cm)
Width 14" (35.6 cm)
Depth 23" (58.4 cm)
Type With pedal
Material Stainless Steel
Manufacturer Rubbermaid
Finish Brush
Shape Rectangular
Liner None
Model Slim Jim
Capacity 13 gal US (50 L)
Feature Dual liner
Heigth 28.6" (71.1 cm)
Width 13.7" (34.8 cm)
Length 18.11" (46 cm)
Material Stainless Steel
Stream Type Waste / Recycling
Model Slim Jim
Manufacturer Rubbermaid
Strength Regular
Bags/Box 500 bags
Format 20" X 22"
Model Industrial
Manufacturer Lalema