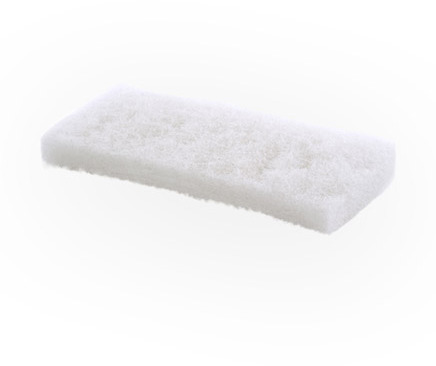 This product
is not available

with the option set selected. Please try another set of options.
If you have any questions, please contact us.

514-645-2753
Advantage Scrubbing and Light Duty Cleaning White Pad
The white hand pad is design for light duty cleaning and scrubbing of soft surfaces.
WH090030000
In stock
Part List

Technical Specifications
Length 10" (25,4 cm)
Color White
Feature Light duty
Model Pad
Use Cleaning and Scrubbing
Unit Converter
Our best suggestions
Detailed Description
Light Duty White Cleaning and Scrubbing Pad
The white manual pad is design for maintenance, scrubbing and cleaning soft surfaces. This smooth pad is perfect for stainless steel, chrome, copper, porcelain and ceramic cleaning.
This gentle and smooth pad is design of mild abrasive fiber facilitate soft surfaces cleaning. The 10" white pad can be use manually or with a pad holder.
Technical Specifications
| | |
| --- | --- |
| Length | 10" (25,4 cm) |
| Color | White |
| Feature | Light duty |
| Model | Pad |
| Use | Cleaning and Scrubbing |
| Manufacturer | Advantage |