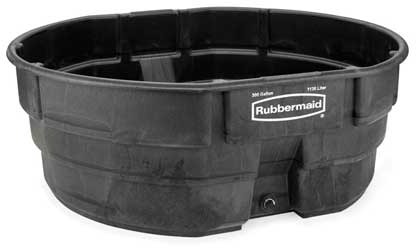 This product
is not available

with the option set selected. Please try another set of options.
If you have any questions, please contact us.

514-645-2753
Rubbermaid FG424700BLA Structural Foam Stock Box
In stock
Part List

Technical Specifications
Type Stock Tank
Use Industrial
Style Outdoor
Feature Drain Plug / Float Valve
Color Black
Unit Converter
Detailed Description
Stock Tank
Built tough for superior performance and long-lasting durability in all kinds of weather extremes.
Seamless construction for outstanding durability
Oversize drain plug makes for easy drainage and cleaning of stock tank; 1-1/2" oversize drain
Five sizes to fit all your watering needs; from 50 gallons up to 300 gallons
Optional all-plastic anti-siphon float valve provides constant water level
Capacity
Dimension
50 gal
52" x 31" x 12"
70 gal
40" x 32" x 24"
100 gal
52" x 31" x 25"
150 gal
58" x 39" x 25"
300 gal
63" x 69" x 25"
Technical Specifications
| | |
| --- | --- |
| Type | Stock Tank |
| Use | Industrial |
| Style | Outdoor |
| Feature | Drain Plug / Float Valve |
| Color | Black |
| Material | Structural Foam |
| Model | Stock Tank |
| Manufacturer | Rubbermaid |
Related Products
Color Brown
Material Plastic
Capacity 7 gal (26.5 L)
Length 21-1/2" (54,6 cm)
Width 17-1/8" (43.5 cm)
Heigth 7" (17.8 cm)
Model Bus/Utility Box
Manufacturer Rubbermaid
Manufacturer Rubbermaid
Length 9" (22.9 cm)
Heigth 6-1/4" (15.9 cm)
Width 5" (12.7 cm)
Color Black
Type Valve