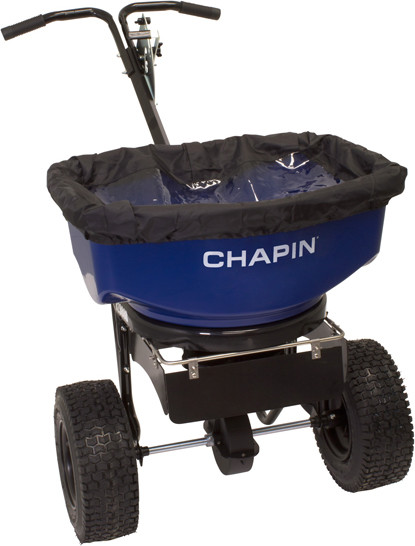 This product
is not available

with the option set selected. Please try another set of options.
If you have any questions, please contact us.

514-645-2753
Chapin SureSpread 80 lbs Salt Spreader Professional
Professional salt spreader for commercial or industrial used. Designed for a winter used. Features a stainless steel handle, 12" pneumatic wheels and a rain cover.
CH082088000
Technical Specifications
Application Salt & Ice Melter
Heigth 36" (91.4 cm)
Length 24" (61 cm)
Width 38" (96 cm)
Type Spreader
Unit Converter
Detailed Description
SureSpread Salt Spreader Professional Stainless Steel Push Spreader
Enclosed metal gears to withstand the elements
Solid steel linkage opens and closes the gate in incremental steps
Patent pending poly conical auger helps agitate product and minimize clumping
43% larger gate opening to allow product to flow smoothly
Adjustable 360 degree salt baffle system helps spread salt only where you want it
Stainless steel T-handle with comfort grips feature gate control at fingertips
12" Fully Pneumatic Tires Easily Handle Rough Terrain
Heavy Duty Stainless Steel Frame Fully Supports Hopper at Its Base
Unique two-piece hopper design allows for easy replacement of hopper
Optional grate and rain cover accessories (included)
All Season Spreader spreads salt/halite/ice-melt, fertilizer, seed and more with a simple gate adjustment
Innovative gate design
Strategic placement of gate
Technical Specifications
| | |
| --- | --- |
| Application | Salt & Ice Melter |
| Heigth | 36" (91.4 cm) |
| Length | 24" (61 cm) |
| Width | 38" (96 cm) |
| Type | Spreader |
| Style | Mobile |
| Angle | 360° |
| Feature | Winter |
| Use | Industrial - Commercial |
| Include | Rain Cover |
| Kind of Wheel | Pneumatic |
| Wheel diameter | 12" (30,5cm) |
| Opening | Adjustable - Handle Activation |
| Material | Plastic |
| Handle Material | Stainless Steel |
| Warranty | 5 years |
| Model | SureSpread |
| Manufacturer | Chapin |