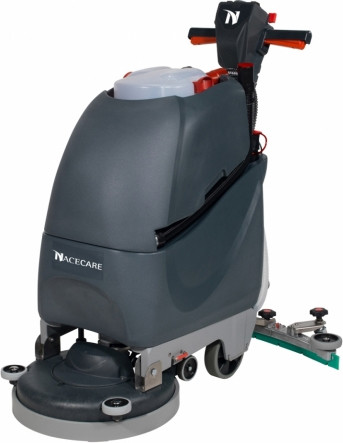 This product
is not available

with the option set selected. Please try another set of options.
If you have any questions, please contact us.

514-645-2753
Nacecare 903752 TGB 817 Twintec Battery 17'' Autoscrubber
With 8-gallon solution and recovery tanks, the TGB 817 is extremely compact, easy to use and easy to transport.
NA903752000
In stock
Part List

Technical Specifications
Solution tank capacity 8 gal
Color Grey
Length 44'' (111,76cm)
Width 22'' (55,88cm)
Heigth 43'' (109,22)
Unit Converter
Detailed Description
TGB 817 Pad Assist Walk Behind Scrubber
Fully adjustable handle provides proper ergonomics for any operator
Semi-parabolic tear-away squeegee pivots from side to side providing excellent water recovery on turns
Quick-release Serilor squeegee blades for easy cleaning
Patented flip-up head makes pad or brush changing a breeze
Structural foam brush deck and frame carry a 10 year warranty
Hour meter and battery level indicator
The on-board charger allows it to be charged anywhere
2 x 80 amp hour gel batteries provide 2-2.5 hours of run time
Low-voltage shutoff prolongs battery life
Gel Batteries :
Safest, most dependable batteries on the market
Longest-life batteries on the market
Emit 1/40 of the hydrogen gas of wet lead acid batteries
Spill-proof and can be charged anywhere
Visit our neutral cleaner section so that you can find the product suitable for your autoscrubber. To avoid foam accumulation in the recovery tank of your auto-scrubber, a defoamer such as the product PHASE defoamer must be added to the tank.
Technical Specifications
| | |
| --- | --- |
| Solution tank capacity | 8 gal |
| Color | Grey |
| Length | 44'' (111,76cm) |
| Width | 22'' (55,88cm) |
| Heigth | 43'' (109,22) |
| Time of use per charge | 2 - 2,5 hours |
| Working Width | 17" (43 cm) |
| Vacuum Motor | 24V - 400W |
| Weight With Battery | 277 lb |
| Brush Pressure | 64 lb |
| Sound Level | 67 dB |
| Powerful Brush Motor | 24V - 400W |
| Yield | 18 700 sq. ft/h |
| Brush RPM | 150 RPM |
| Battery Type | 2 x 12V, 80 AMP |
| Power Source | Gel battery |
| Manufacturer | Nacecare |