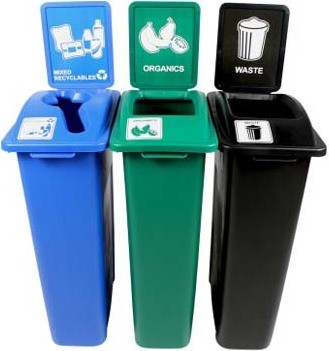 This product
is not available

with the option set selected. Please try another set of options.
If you have any questions, please contact us.

514-645-2753
Busch Systems 101066 Trio Containers Recycling, Organic and Waste Waste Watcher
Perfect for in an office or school environment, the Waste Watcher Series containers are versatile, customizable bins designed to streamline recycling, waste collection and composting.
BU101066000
In stock
Part List

Technical Specifications
Capacity 3 x 23 gal US (87 L)
Material High density polyethylene
Stream Type Mixed Recycling, organic and waste
Type of Bins 3-Triple
Serie Waste Watcher
Unit Converter
Detailed Description
Trio Containers Recycling, Organic (Compost) and Waste Waste Watcher
Reduce servicing demands with different capacities to choose from
Adapts to any recycling program with a wide range of color and lid opening options
Strategically placed handles help make servicing and relocation smooth and simple
Inside rounded edges eliminate build up of dirt and grime in corners
The customizable graphics are highly visible and help improve your programs presence and participation
With or without sign frame + mixed recycling/organic/waste label
Ideal for your composting solution
| Kit | Dimensions (H x l x L) | Weight (lbs) |
| --- | --- | --- |
| With sign frame | 41.8" x 33" x 20" | 27.8 lbs |
| Without sign frame | 30" x 33" x 20" | 25,55 lbs |
Technical Specifications
| | |
| --- | --- |
| Capacity | 3 x 23 gal US (87 L) |
| Material | High density polyethylene |
| Stream Type | Mixed Recycling, organic and waste |
| Type of Bins | 3-Triple |
| Serie | Waste Watcher |
| Manufacturer | Busch Systems |
Related Products
Format 26" X 36"
Model Industrial
Manufacturer Lalema
Thickness 0.80-0.95-1.3 mils
Strength Regular
Capacity 3 x 23 gal US (87 L)
Material High density polyethylene
Stream Type Mixed Recycling, organic and waste
Serie Waste Watcher
Manufacturer Busch Systems
Type of Bins 3-Triple
Available formats
| | Code | Color | Kit | Sale Unit |
| --- | --- | --- | --- | --- |
| | BU100972000 | Grey, blue, green and black | Without sign frame | Unit |
| | BU100986000 | Grey, blue, green and black | With sign frame | Unit |
| | BU101057000 | Blue, green and black | Without sign frame | Unit |
| | BU101066000 | Blue, green and black | With sign frame | Unit |