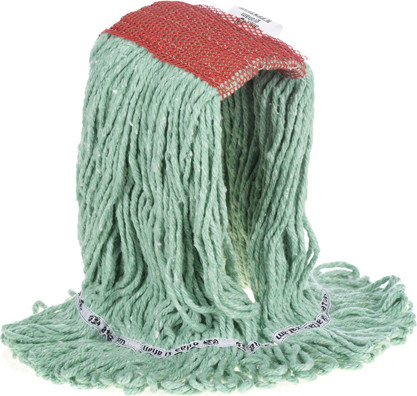 This product
is not available

with the option set selected. Please try another set of options.
If you have any questions, please contact us.

514-645-2753
The cleaning mop with wide band is made of synthetic and cotton blend. The TuffStuff wet mop from Atlas Graham is design with a looped end.
AG001603VER
In stock
Part List

Technical Specifications
Band Wide
Type Looped-end
Material Cotton & synthetic
Color Green
Model Tuff Stuff
Unit Converter
Detailed Description
Cleaning wet mop with wide band Tuff Stuff from Atlas Graham
TuffStuff's synthetic-cotton blend yarn is a workhorse that outlasts conventional mops by 5 to 8 times and stands up well to laundering. The synthetic component of the yarn adds durability; the cotton boosts absorbency and reduces drying time.
The tailband helps keep the mop's fan shape, providing better floor coverage and eliminating tangles. TuffStuff wide band mops can be used with any Jaws or clamp style handle and are the preferred mop for use in hospitals and long term care facilities.
Technical Specifications
| | |
| --- | --- |
| Band | Wide |
| Type | Looped-end |
| Material | Cotton & synthetic |
| Color | Green |
| Model | Tuff Stuff |
| Manufacturer | Atlas Graham Furgale |