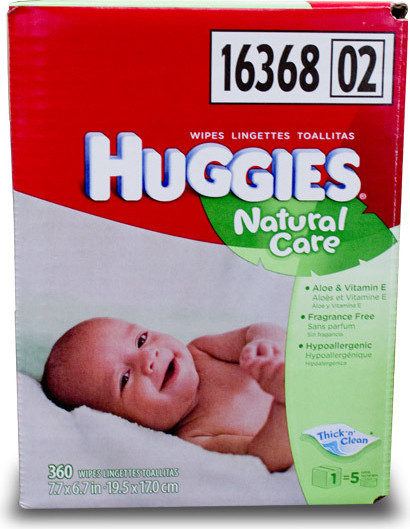 This product
is not available

with the option set selected. Please try another set of options.
If you have any questions, please contact us.

514-645-2753
Huggies Wipes Huggies Natural Care
Huggies Natural Care wipes. For a sensitive, gentle clean.
PG431950000
In stock
Part List

Technical Specifications
Type Wet Wipes
Use Hand & body
Feature Babys
Style Hypoallergenic
Fragrance Odorless
Unit Converter
Detailed Description
Huggies Natural Care Wipes
Huggies Natural Care wipes offer a sensitive, gentle clean for new baby's naturally perfect skin.
See for yourself the quality of these wipes!
Soft, sensitive, and fragrance free clean
Aloe & Vitamin E
Hypoallergenic, fragrance-free and alcohol-free
The wipes are thicker in order to guarantee better cleaning efficiency. Sold in boxes of 160 units, the size of the wipes is 7.7" x 6.7" (19.5 x 17.0 cm).
Technical Specifications
| | |
| --- | --- |
| Type | Wet Wipes |
| Use | Hand & body |
| Feature | Babys |
| Style | Hypoallergenic |
| Fragrance | Odorless |
| Dimensions | 7" x 6" |
| Model | Natural Care |
| Manufacturer | Huggies |