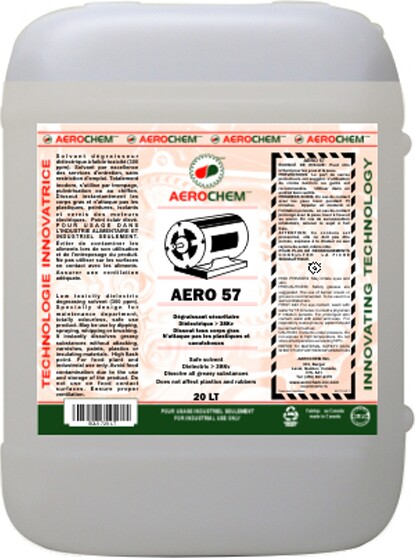 This product
is not available

with the option set selected. Please try another set of options.
If you have any questions, please contact us.

514-645-2753
Aerochem Aero 57 Non-Conductive Solvant Degreaser
AERO 57 solvent degreaser low toxicity, odorless. Perfect to dissolves animal greases or degreasing all ferrous.
AESOL5720LT
In stock
Part List
Technical Bulletin

Technical Specifications
Feature Dielectric
Model Liquid
Fragrance Odorless
Color Colorless
Volume 20 L
Unit Converter
Detailed Description
Dielectric solvant degreaser Aero 57
The product Aero 57 is a solvent degreaser low toxicity (300 PPM). It is the solvent of choice for maintenance services, without restriction of use and odorless. It is used by dipping or spraying. The flash point of the product is > 60 °C.
Aero 57 is a isoparrafinic dielectric solvent (38.8 kV), synthesized from basic hydrocarbons under conditions that exclude virtually all odor-producing fractions. This non conductive degreaser is highly stable and retains its virtually odorless quality under normal conditions and extended storage.
Used for degreasing all ferrous and non-ferrous metal surfaces
It dissolves instantly all greasy residues such as mineral, vegetal or animal greases
It also dissolves all oxidized used oils
It is not regulated, does not contain any carbon benzene products (benzol, toluol or xylol) or any chlorinated solvent (di, tri or perchloroethylene)
Technical Specifications
| | |
| --- | --- |
| Feature | Dielectric |
| Model | Liquid |
| Fragrance | Odorless |
| Color | Colorless |
| Volume | 20 L |
| Manufacturer | Aerochem |