This product has been replaced by:
#FR002000NOI
Big Thawing Salt Bin
Back to top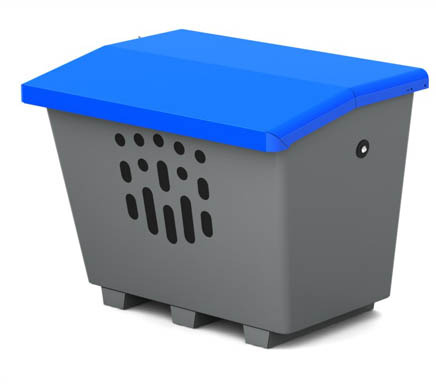 This product
is not available

with the option set selected. Please try another set of options.
If you have any questions, please contact us.

514-645-2753
Frost 2000 BLUE Big Thawing Salt Bin
Big Thaw Salt Bin
FR002000BLE
In stock
Part List

Technical Specifications
Type Salt Bin
Capacity 62 gal (234 L)
Heigth 27" (68.6 cm)
Width 16" (91.4 cm)
Depth 25" (63,5 cm)
Unit Converter
Detailed Description
Big Thaw Salt Bin
Materials: All metal construction heavy gauge HRS. Rotationally moulded polyethylene storage liner.
Finish: RAL super durable TGIC-free polyester powder coating.
Features: Counterbalanced lid for safe and easy access. Sealed storage compartment helps extend the storage life of salt. Holds up to 750 lbs. depending on material density. Unique design is part of a family of integrated products. Clean detailing in a rugged practical application. Easy installation in any location.
Dimensions: 36"W x 27.75"H x 25.5"D
Installation: Holes provided for anchor mounting
1 year warranty against defective workmanship
Capacity: 62 gal./ 234 litres
Technical Specifications
| | |
| --- | --- |
| Type | Salt Bin |
| Capacity | 62 gal (234 L) |
| Heigth | 27" (68.6 cm) |
| Width | 16" (91.4 cm) |
| Depth | 25" (63,5 cm) |
| Warranty | 1 year |
| Manufacturer | Frost |