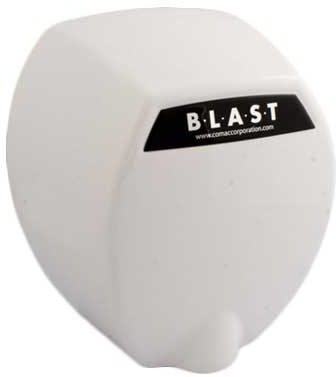 This product
is not available

with the option set selected. Please try another set of options.
If you have any questions, please contact us.

514-645-2753
Comac Comac Blast Hand Dryer
Comac Blast no touch hand dryer has a compact and modern appearance and an outstanding efficiency while combining power and speed
NV200100000
In stock
Part List
Technical Bulletin

Technical Specifications
Type Automatic
Input Voltage 115/208/230 V - 50/60 Hz
Sound Level 83 dB
Hand Dry Time 10 seconds
Material Cast iron
Unit Converter
Detailed Description
Cast Iron No Touch Hand Dryer
A combination of unsurpassed drying speed, "universal voltage" and a compact, modern design make the new Comac Blast the best choice amongst high speed, high output dryers. With a lifetime warranty, the choice is clear.
Features:
Unsurpassed Drying Speed: blows water off hands and evaporates residual moisture with ultra-high velocity warm air. Dries completely in about 10 seconds
Universal Voltage: auto-sensing circuit instantly adjusts to 115, 208 or 230 volts
Cast Iron Cover: the vandal-resistant cast iron cover contains 100% recycled content. 1/4" thick cast iron with porcelain enamel finish for the ultimate in durability
Compact, Modern Design: elegant housing; the smallest high-velocity hand dryer on the market
Environmentally Friendly: uses 1/6 the energy of conventional hand dryers and costs 25 times less than paper towels to operate
Long Lasting: virtually undestructible cover and high quality mechanism warranted for 10 years
Technical Specifications
| | |
| --- | --- |
| Type | Automatic |
| Input Voltage | 115/208/230 V - 50/60 Hz |
| Sound Level | 83 dB |
| Hand Dry Time | 10 seconds |
| Material | Cast iron |
| Warranty | Lifetime warranty |
| Heigth | 11" (27.9 cm) |
| Width | 10" (25,4 cm) |
| Depth | 7" (17.8 cm) |
| Motor | 1/6 hp |
| Motor Speed | 20 000 rpm |
| Powerful | 1450 watts |
| Model | Blast |
| Manufacturer | Comac |