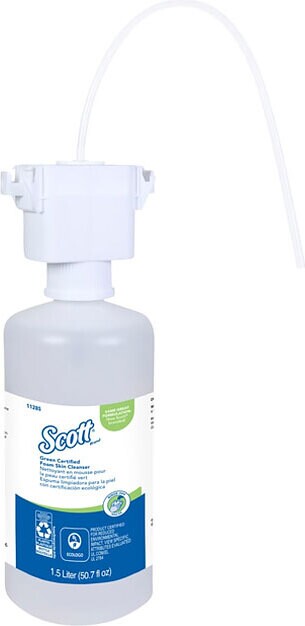 This product
is not available

with the option set selected. Please try another set of options.
If you have any questions, please contact us.

514-645-2753
Kimberly-Clark 11285 Dye and Fragrance-Free Foam Soap Scott
Scott general cartridge luxury foam fragrance & dye free skin cleanser with moisturizers
KC011285000
In stock
Part List

Technical Specifications
Feature Moisturizing Foam
Use Hand
Fragrance Perfume-free
Color Colorless
Brand Scott
Unit Converter
Detailed Description
Scott moisturizing hand soap foam
Fragrance & dye free skin cleanser
Scott General luxury foaming soap delivers quality and innovation. This Scott product produces a rich and smooth lather.
This luxury foaming soap is tough on dirt but leaves skin soft to encourage hand cleaning often.
Sealed system, to eliminate threat of cross contamination and germ propagation
High capacity 1 200 mL refills
The system uses only 0.35 ml per pump shot
Easy and quick load, cassette simply clicks into place
Easy recycling cartridge once pump is removed
Technical Specifications
| | |
| --- | --- |
| Manufacturer | Kimberly-Clark |
| Feature | Moisturizing Foam |
| Use | Hand |
| Fragrance | Perfume-free |
| Color | Colorless |
| Brand | Scott |